Tustin Bail Bonds
Steven Mehr Bail Bonds
535 E. Main Street #A
Tustin, CA 92705
714-408-7502
Tustin Bail Bonds
An arrest can be frustrating for everyone involved. Whether you are the one being put in handcuffs or the one trying to find the money for bail, there will be a lot of unanswered questions. You need to have a bail bonds agency on your side that has the knowledge and expertise to handle your situation with ease. Steven Mehr Bail Bonds have been in business for almost 90 years. Our agents have a level of experience that only comes from facing the most difficult situations. When you need a reputable bail bonds agent at your service 24/7 in Tustin, call Steven Mehr Bail Bonds at 800-834-8522today and talk to a live agent.
How Do Bail Bonds Work?
The right to bail is awarded to us through the 8th Amendment of the Constitution. When an arrest occurs, bail is set according to the severity and nature of the crime. For minor crimes and misdemeanors, the bail is set according to a pre-determined bond schedule. For more severe crimes, an arraignment hearing is held in which the judge determines whether or not bail should be set and how much it should be. Bail can be denied if the judge believes the defendant is a flight risk if they are a threat to themselves or others, or if the crime they are charged with extremely violent.
There are several types of bail that can be posted. They include:
Cash Bond – A cash bond is normally less than a thousand dollars (any bond can be paid in cash if the defendant has the means). Cash bonds must be paid in full, in cash, directly to the court.
Surety Bail Bond – A surety bond requires the use of a bail bonds agent who enters into an agreement with the defendant and their co-signer. Once the co-signer pays the state mandated 10% premium, the bail bonds agent agrees to assume full responsibility of the bond while the defendant remains compliant with the court's demands. If for any reason the defendant skips on their bond, the co-signer immediately becomes liable for the entire amount of the bond.
ROR (Own Recognizance) – If a person is "released on their own recognizance" it means that no money was needed and they were released based on their reputation and good standing within the community.
Citation Release – A citation works in the same way as a traffic ticket. Once the defendant receives the citation, they agree to appear in court on the time and date listed on the document. No financial security is needed.
Your Rights and Responsibilities
Along with your constitutional rights come responsibilities. As a defendant, you've exercised the right to obtain early release from jail. This allows you to continue to financially support and be with your family. You can go back to work and participate in your regular day to day activities. You are also able to hire an attorney and work towards building your defense.
Your responsibilities include agreeing to remain within the jurisdiction of the court as well as remaining in contact with your bail bonds agent on a regular basis. You must also report any changes to the court when it comes to your personal contact information, address, or place of employment. Most importantly, you must agree to attend any and all scheduled hearings put in place by the court. If there are any stipulations the court demands, you must also remain in compliance to prevent having your bond revoked or forfeited.
Where Do I Go To Appear In Court?
After an arrest in Tustin, California, you will be taken to the Tustin Jail which is located along with the Police Department at 300 Centennial Way. When it's time to appear in court, you will be taken to the Orange County Superior Court Civil Complex Center at 751 West Santa Ana Boulevard in Santa Ana. If you have been released on bond and have a court date scheduled, it's important to know where the court house is prior to your court date. On the day of your hearing, arrive early and make sure they know you're there.
What Happens After Court?
Not all cases end with one court appearance. If for any reason you are out on bond and there is another scheduled court hearing, you must attend every one to make sure your bond remains intact. If for any reason, you can't make it to court due to a medical emergency or any other unavoidable circumstance, it is important that you call the court at 657-622-5300 immediately and let them know what is going on. Another court date will be scheduled and you will be required to appear. Once your case is finalized, your bond will be released and anything that is left after court costs, fees and restitution have been paid will be returned to the co-signer.
What's the Difference Between Revocation and Forfeiture?
There are two ways you can lose your right to maintain your release from jail if you're out on bond. The first way is a revocation. A revocation occurs when either the court or co-signer no longer believe you should be out on bond. This can be the result of a fear that you may not appear in court or have given them a reason to believe that you may flee the court's jurisdiction and not comply with your legal obligations.
A forfeiture occurs if you violate the terms of your bond, either by not complying with the court's demands or by fleeing the court's jurisdiction and not appearing at your scheduled court date. When you miss court, the judge has the right to demand your return to jail. As soon as it's apparent that you've missed court, the judge will issue a warrant for your arrest and your bond will be forfeited. Once you've been returned to the jail, the co-signer will be released and will not be held responsible for paying the total amount. If you are not returned to jail in a timely fashion (in most cases, 30 days), your bond will be forfeited and the entire bond amount will be due and owed to the court. The bail bonds agent will start the process of collecting the funds from the co-signer at that time.
Hiring the Best in the Business
When you're dealing with an arrest, you want to hire a reputable bail bonds agency. For over 89 years, Steven Mehr Bail Bonds has offered 24/7/365 service to every client in the Tustin, California area. An arrest can be a confusing time for everyone. It's important to hire a bail bond agency that has a positive working relationship with both the courts and law enforcement. It's also important that they can move easily throughout the state, especially if your loved one wasn't arrested locally.
If you are faced with the possibility of an arrest or have a loved one who has been put in jail, call Steven Mehr Bail Bonds at 800-834-8522. Our agents are well known locally for being compassionate, professional and discreet on all levels. When you want an agency who stands beside its clients, our agents are there. We work with you throughout the process. We will help guide you through the difficult times and will even appear in court with you if that's what you want. We are there when you need us. Law enforcement doesn't go on vacation and neither do we. Our agents are second to none throughout Southern California and our professional service proves that!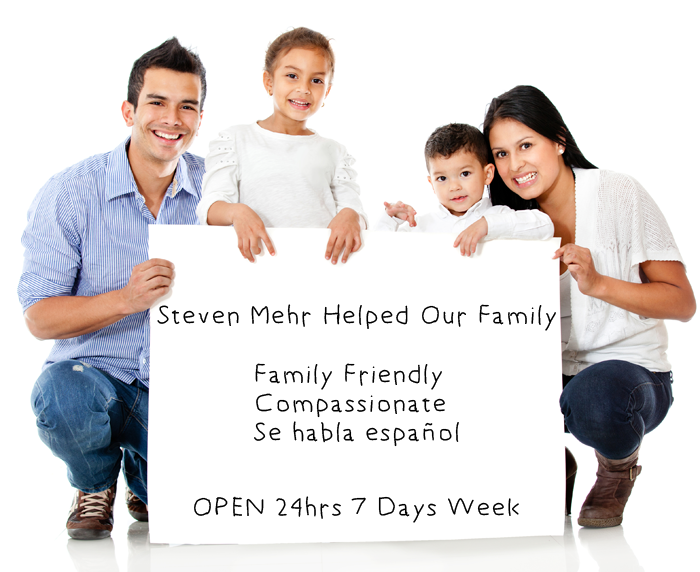 Steven Mehr Tustin Bail Bonds serves Santa Ana, Orange County, Tustin and all of the surrounding areas 24 hours a day. Our offices are always open. Call us today at 1-800-834-8522!