San Clemente Bail Bonds
At Steven Mehr Bail Bonds Service, we understand the difficult situation you find yourself in when a friend or family member is suddenly arrested in San Clemente. In your time of need, our fully licensed, bonded, and insured bail bonds agents are standing by ready to help. Call us for free at 800-834-8522, and we will lose no time in attending to your needs and securing your loved one's freedom.
Why Choose Steven Mehr?
We have had our doors open for 88 years and running- longer than any other bail bonds agency in California. Our highly experienced and thoroughly trained bail bondsmen know the Orange County legal process in intricate detail and are ready to assist you 24/7/365. We can ensure that the rights of the arrestee are respected during the booking and bailing process and get him/her out of jail as soon as possible.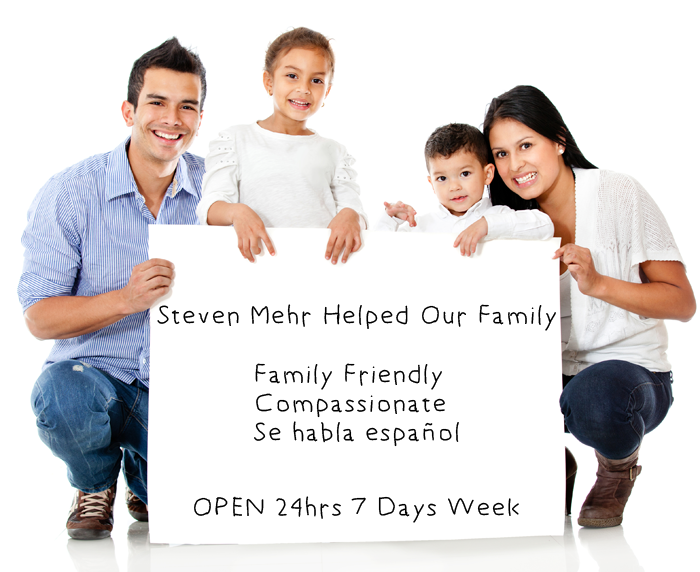 Why Is the Situation Urgent?
When one is arrested in San Clemente, he/she will be held temporarily at the local sheriff's station. However, it will be a matter of hours before the inmate is transferred to the Orange County Main Jail. If we are notified soon enough, we can contact the sheriff and ask him to hold the arrestee there for bail instead of transferring him. While booking and release at the sheriff's station can be completed relatively quickly, it will take 12 to 24 hours to accomplish the same process at the Orange County Main Jail in Santa Ana.
Booking at the Intake/Release Center (IRC) in Santa Ana includes scanning fingerprints and comparing them with the DOJ national database. If any outstanding warrants, aliases, or bail holds are discovered, bail will be denied. A bail hold is an order from a law enforcement agency, a parole/probation officer, or a judge to deny bail until the defendant's first court appearance (called an "arraignment.")
The inmate will also be photographed, searched, medically examined, and interviewed for classification purposes. Booked inmates are then housed at Central Men's Jail or Central Women's Jail until their court date arrives or until bail is posted. Additionally, an inmate may end up being transferred to yet another facility due to overcrowding or due to the nature of his/her alleged crime. If the person was arrested on an out of county warrant, he will be transferred to the warrant-issuing county.
How We Can Help
First, we can facilitate all of the necessary paperwork to bail your loved one out. You will need to fill out a few forms, but we can guide you through the process step by step. In many cases, you can even have us process the bail bond without even leaving your home or workplace. We can use phone, fax machine, and email to accomplish the task, and you can pay by means of credit card. This is a great convenience if you can't miss work hours or leave children alone at home.
Second, we can give you helpful information pertaining to the arrest, the booking process, bail bonding, and release from jail. The Sheriff's Department and Orange County Jail staff will be busy with their own duties and, perhaps, not very concerned to help you or your loved understand what is happening or what to do next. We explain the whole process to you from beginning to end in as much detail as you desire.
How Does Bail Bonding Work?
A bail bond is a contractual agreement wherein the bail bond agent guarantees to the court that the defendant will show up for all of his/her required court appearances. The person taking out the bond and posting it in the arrestee's behalf guarantees the bail bond company the full price of the bail should the accused fail to come to court and cause the bail money to be lost.
In many cases, if the accused comes to or is brought to court after missing a court date, a forfeited bail bond can be re-instated. This is, however, fully at the discretion of the presiding judge. Therefore, the defendant missing a court date is always quite dangerous if not finally disastrous in every instance.
Every bail bond service in the state of California is required to charge a 10% fee, the percentage being based on the bail amount. It is illegal to charge any more or less than 10%, except in certain less common cases where an 8% fee is allowed. This fee is non-refundable and is the means by which bail bonds agents make their living. By using a bail bond, you are enabled to effectively post a bail ten times greater than the amount of money you actually pay. Thus, while bail bonds entail certain risks and expenses, most people could not afford to post bail at all without this service.
What If I Can't Afford the Fee?
We understand that it is often difficult for many to even pay the premium out of pocket. For example, if the bail amount is $25,000, the premium would be $2,500. If you can't come up with the fee, we can offer a payment plan with very affordable installments. If your credit qualifies, we can set up a zero-down, zero-interest arrangement. Half-down, however, is a much more common scenario.
It is also possible, and sometimes necessary, to use some form of collateral to secure your bail bond. The collateral may be needed for the bond itself, for the fee financing plan, or for both. In some cases, a mere signature will do, but if collateral is required, real estate, automobiles, jewelry, bank accounts, bonds, and cashier's checks often are accepted.
What If I Choose Not to Bail My Loved One Out?
Without bail, your relative or friend will have to wait in jail for 24 to 48 hours before going to court. This time frame does not include weekends or holidays. Without his/her freedom, your loved one will find it very challenging to secure a good defense attorney and adequately prepare for the upcoming court case. We, as a bail bond company, are not allowed to give out specific legal advice, but we can and do recommend that the arrested person seek out a top-tier attorney. This is especially important if a felony charge is involved.
We Make Getting a Bail Bond as Quick and Easy as Possible
Having been in this business since 1927, we have acquired the skills needed to expedite the bail bond issuing and posting process. We know how to shorten your loved one's time spent behind bars significantly. From the moment you call Steven Mehr San Clemente Bail Bonds Service at 800-834-8522, our agents immediately get to work in your behalf. We accommodate you as much as possible to make sure you can afford a bail bond, and we always treat you with the utmost respect and dignity.