Aliso Viejo Bail Bonds
If your friend or family member has been arrested in Aliso Viejo, the expert bail bondsmen of Steven Mehr Bail Bonds Service are available to take your call and render you quick assistance 24/7/365. Our team of experienced agents are fully licensed, bonded, and insured and can handle your case regardless of the charges or bail amount involved. Do not hesitate to call us toll-free at 800-834-8522 for fast action, a free consultation, or simply to have your bail bond related questions answered in an honest, professional manner.

If you do not contact us early enough, your loved one could be transferred to Central Jail Complex in Santa Ana, which would further complicate and delay the process of getting your friend of family member out of jail.
To speed up the process, try to have the following information collected before you call us:
The full legal name of the one arrested

What charges are being brought against him/her, especially if this is not the first time your loved one has been arrested

The place of arrest and present place where he/she is in custody
If you are missing some of the pertinent arrest-related information, however, one of our knowledgeable agents can talk with to help you understand the process better and to quickly obtain all necessary information. We will find a way to help you collect all of this data.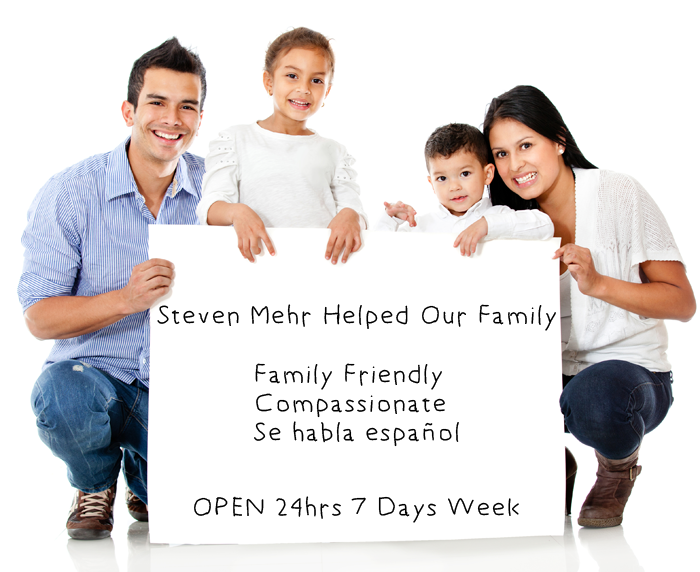 Unlike many bail bond companies operating in Aliso Viejo, we can help you post bail no matter what the arrest charges. We will waste no time in getting your loved one bailed out, and we can explain to you the benefits of bail bonds as well as your full range of options. Our bail bonds are risk-free, due to the fact that our bondsmen are all insured by Department of Insurance in California (DIC). With nearly 90 years in the business, you can be sure that Steven Mehr Bail Bonds Service is well equipped to rapidly process your bail bond and restore your loved one to freedom.
You may be wondering, "How much will a bail bond cost?" First, you should understand that the DIC requires that bail bond fees be no more nor less than 10% of the total bail deposit. This applies throughout the state and to all licensed bail bond providers. However, if you are a home owner or if the inmate already has secured a defense attorney, a 20% discount can kick in and reduce the fee to only 8%. Any other discount offered by a bail bond company is simply illegal.
If you can't pay the full fee out of pocket, we have financing options available to you. You can often use a credit card or set up a payment plan. Zero down and/or zero interest arrangements are sometimes possible, depending on your credit rating. Half down with the rest paid in affordable installments is our most commonly chosen plan. As to payment method, we accept Visa, Master Card, Discover Card, cash, cashier's checks, and traveler's checks.
Sometimes, collateral may be necessary. Collateral is pledged to the bail agency for the purpose of securing the bail in the event the accused fails to appear for his/her required court dates. If the defendant does not show up for a scheduled court proceeding, a bench warrant will be issued by the judge to bring him before the court. The bail is declared in forfeiture at this point, which does endanger the collateral. However, in many cases, the bail and collateral will be restored by the judge once the defendant appears in court. This is fully at the judge's discretion, however.
Items typically accepted as collateral include: real estate, automobiles, valuable jewelry, bonds, bank accounts, personal credit guarantees, and credit cards.
Finally, you may also be wondering how long the bail bonding process is likely to take. We are the fastest, most efficient in the industry and can often get your loved one released in less than an hour. The necessary paperwork often takes only 10 to 30 minutes. If the arrested person has already been transferred to the county jail, however, the process typically takes six to 12 hours. Thus, it is imperative to move quickly to avoid this extra time and hassle.
Contact us today at Steven Mehr Aliso Viejo Bail Bonds Service by calling toll-free 800-834-8522. We can get your loved one out of jail fast so he can begin to prepare a legal defense against the charges brought against him. We are available 24/7, so don't hesitate to call.