Rancho Santa Margarita Bail Bonds
If your family member or friend has been arrested in Rancho Santa Margarita, we understand the ordeal that you are going through. The expert bail bondsmen at Steven Mehr Bail Bonds Service stand ready to answer you call and to attend to your needs. You can call us 24/7, 365 days a year at 800-834-8522 to receive fast, friendly, and efficient service.
Our agents are all fully licensed, bonded, and insured, and have deep experience in handling a wide variety of arrest and bail scenarios. We can provide you with a free consultation on the details of your case, answer any questions you have about the bail bond process, and move with haste to get your loved one out of jail as soon as possible.
We are so familiar with the necessary paperwork and preparations that we can move through that process with incredible efficiency. You can come to our office or the jail lobby to fill out the paperwork, and we can guide you every step of the way at no extra charge. If you cannot leave your home or place of employment, we can usually process the bail bond using only telephone, fax machine, and credit card.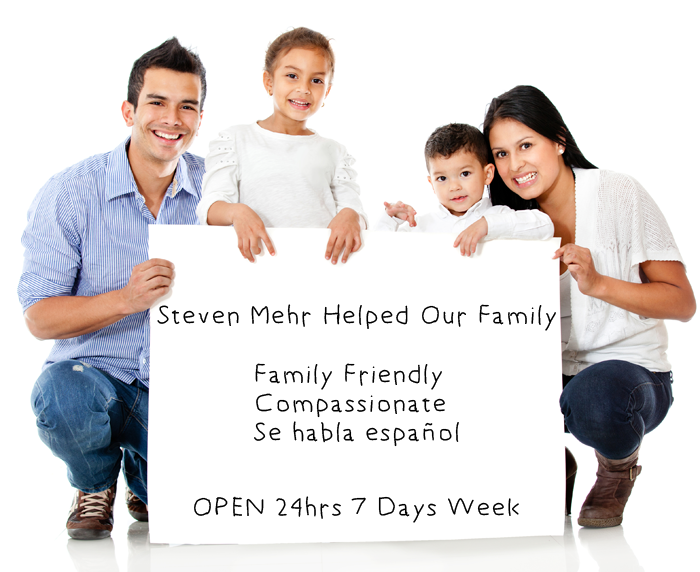 Those arrested in Rancho Santa Margarita are normally held in the local jail only very briefly. They are soon transferred off to the Orange County Main Jail in Santa Ana. For this reason, it is important to contact us as soon as you are aware of the arrest. The booking and bailing process at Orange County Jail is much longer than in Rancho Santa Margarita. It takes 12 to 24 hours to accomplish at Orange County compared to only one or two hours at the local jail facility. If the inmate has already been transferred, we can still work to bail him/her out. It will simply take a more time and trouble to accomplish, but we do not charge you extra for the additional effort. Be aware, however, that in only 24 to 48 hours, you can expect the transfer to Orange County Main Jail to occur if you have not yet had us contact the local sheriff to inform him you will post the bail.
Since bail amounts are often set very high to prevent defendants from fleeing, it is often difficult for people to pay full bail in cash upfront. Bail bonds exist as a way to enable you to bail out your friend or relative without having to come up with an unrealistically large deposit.
A bail bond is a contractual agreement whereby a state-licensed bail bondsman guarantees the court that the accused will show up for his or her appointed court dates. The person who posts the bail bond in the defendant's behalf, normally a friend or close relative, guarantees the full bail amount to the bail bond company should the bail money be permanently forfeited to the court.
If the defendant fails to attend all required court appearances, the judge will issue a bench warrant to bring the defendant to the courtroom. The bail bond will go into forfeiture in the mean time, but the judge can reverse that situation once the arrested person shows up in court. Since this decision is solely at the judge's discretion, it is dangerous indeed for the defendant to miss court, but nonetheless, the bail bond will frequently be restored.
The state of California has mandated that a fee of 10%, no more nor less, be charged by licensed bail bondsmen. This percentage is based on the total bail amount. In certain circumstances, such as the incarcerated individual having already obtained a lawyer, the fee can be reduced to 8%. Any bail bonds service offering a premium below 8%, however, is operating illegally. To take such an offer would also involve you in illegal activity and could render the bail bond null and void.
If you are not able to pay the full bail bond premium, we can normally arrange a payment plan for you. The installments will be very reasonable, and if your credit qualifies you, you may be able to get a zero-down, zero-interest set-up. In other cases, you may at least be able to get a half-down arrangement.
When you co-sign for a bail bond and/or opt for a payment plan on the bail bond fee, collateral may be required. In some cases, nothing more than your signature will be needed. If collateral must be provided, however, any of the following items are often accepted: real estate, automobiles, jewelry, bonds, banks accounts, and credit cards.
The decision of whether or not to bail out a friend or relative can be quite difficult. We understand the dilemma well, having been in this business since 1927. In fact, we have had our doors open longer than any other bail bonds service in the entire state of California. If your loved one is not bailed out, he or she will be kept in custody for up to 48 hours, not inclusive of weekends or holidays. Then, he/she will be sent to the first court appearance (the "arraignment"). If the inmate had gotten out of jail, the court date might have been as much as a month off and there would have been better opportunity to hire a defense attorney and prepare for the case.
Also be aware that, under certain circumstances, bail is not permissible. For example, if it is a capital offense or if the court deems it likely the defendant will flee or commit the same crime again while out on bail. Further, a "bail hold" disallows bail. A bail hold is an order by a law enforcement agency, a parole/probation officer, or a judge that no bail be accepted for an individual until after his/her first court appearance.
If bail is allowable and you decide to bail your loved one out of jail, we can find a way to make it happen. We are the fastest in the business and can handle any type or amount of bail that may arise. Call us today toll-free at 800-834-8522 for helpful advice, pertinent information, and quick action to get your loved one out of jail.