Bail Bonds in Inglewood, California
Steven Mehr Bail Bonds has been providing services for over 35 years.
The family has been in business since 1927
Steven Mehr offers 24 hours 7 days a week service 365 days a year
Always a live agent to answer all your questions when calling us.
We accept all credit cards, cash or checks
We offer financing available with as little as 0% down. Agents will explain our plans.
Member of the BBI- / CADOI-
Insurance State License# 1492977
Si Habla Espanol
Inglewood Bail Bond Advice
The first thing you need to do is find a reputable bail bond company. Our licensed agents are not only experienced but are very knowledgeable and extremely friendly. We are here to handle any and all bail requests for our clients. We can answer all your questions thoroughly and offer you the highest quality service available in the bail industry. Our licensed bail bond agents in Inglewood are always concerned for your well-being and we understand the situation. We will process your request as quickly and efficiently as possible as to get you or your loved one out immediately.
At Steven Mehr Bail Bonds we understand that getting a family member, friend or loved one out of jail quickly is the most important concern in a situation that needs a bail bond. Our agents will work with you to make sure this process is handled with the utmost discretion. We understand that you found our Inglewood Bail Bond section of the website because you need our services and we are here to stand with you in this trying time. Call us immediately so we can get the bail bond process under way. The sooner you call us the sooner you can be out and on your way. Whether you need help early in the morning or late at night, Inglewood Bail Bonds will be there to guide you through this process. We want to make you as comfortable as possible by informing you of all pertinent information so you can make informed decisions.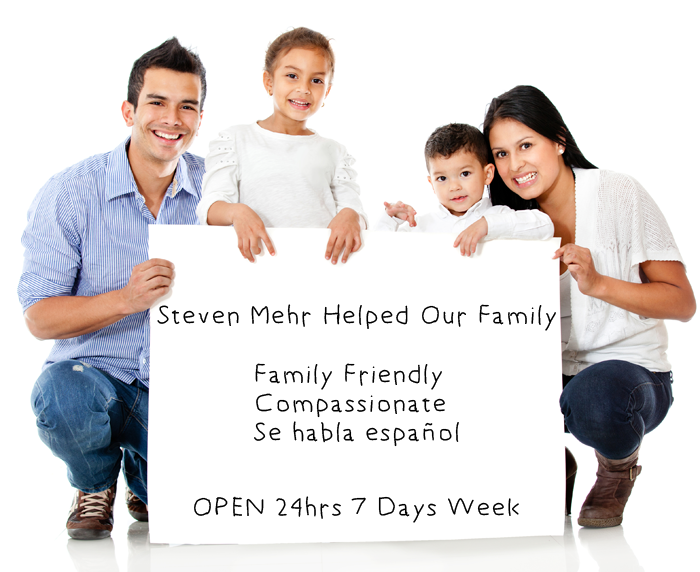 What is a Bail Bond in Inglewood?
A bail bond is a written contract, which states that the defendant will attend all of their court date(s) including sentencing, in order to be released from jail. A bail bond can be revoked due to high risk factors. Ask our knowledgeable agents to explain these bond revocations.
How would one post a Bail Bond in Inglewood?
Signature Only Request
The defendant or the co-signer will financially qualify for the amount that the court calls for. This will require the defendant and the co-signer to sign a state approved written contract that the defendant will attend his or her future court date(s), along with the state regulated fee.
Secured Only Request
This request is for property or a title that will be deposited. The property has to be worth the same amount or more than the bail amount (car, house, etc.), along with the state regulated fee.
What happens after I sign a Bail Bond request in Inglewood?
Once you sign the written contract, you are promising that the defendant will appear in court on their assigned date(s). If the defendant does not appear in court the bail could be forfeited and the defendant may be apprehended and incarcerated until their trial date.
How a Inglewood Bail Bond Works-
Inglewood Bail Bonds uses a state regulated agreement with the local court officials and the surety company; when the bail amount has been paid, they agree to release the defendant from jail, until their next court date. Inglewood bail bond agents will give the jail officials the paperwork to get you or your loved one out of jail. The court holds the bond until the case has come to a conclusion. In the state of California, Bail Bonds agencies charges a fee of 10% of the total amount of bond to post bail for the defendant. An example of this is if the total bail amount required is $17,000 then you would need to pay $1700. This fee is not refundable. The fee can be as low as 8%, please ask our agents if you qualify for that lower rate as it is at the discretion of the court to do so. Once you are released from jail, Inglewood Bail Bonds will explain and walk you through the steps regarding the remaining bail bond procedure. Understand that if the defendant violates the bail bond conditions, it can result in another arrest and/or full payment of the total bond amount.
Bail Bond Inglewood Jail Inmate Information:
Steven Mehr Bail Bonds in Inglewood is able to get to any jail location in 20 minutes to help with a bail bond process. The bail bond process takes about 15 minutes in Inglewood. The bail process can be done using the latest technologies such as phone, email, fax or electronic signature. Our staff is extremely experienced and efficient in handling the bail process in LA County.
Inglewood Bail Bond Booking Release Process:
When a person is taken into custody in Inglewood, they will be escorted to the Inglewood Police Station Jail or they will be transferred to an Los Angeles Main Jail know as (IRC), there they will be held until their court date, known as an "Arraignment". An Inglewood bail bond can be posted anytime 24 hrs a day, 7 days a week 365 days a year. Our agents will always be available to assist you with the bail process. Before a bond can be processed, the person will go through a background check through a "Live Scan", a system that is linked to a national database. This database will check with authorities to make sure there are no holds, warrants, or anything else that will prevent the bail bond process in Inglewood. Once a bail bond process is started in Inglewood it usually takes from an hour to upwards of 8 hours for a full release. A release is dependent upon the time it takes the jailer to process a defendant.
What If I am an Out-of-Towner arrested in Inglewood
Even if you don't reside in Inglewood or live in California and you need a bail bond, the process is neither any different nor difficult to obtain using an Inglewood bail bonds company such as Steven Mehr Bail Bonds. To process a bail bond in Inglewood you need to work with a licensed bail bond agency that will do their due diligence and the paper work needed to process the bail bond. Often our clients will be out on vacation and may run into some legal situations that call for a bail bond. Our team of professional and experienced bail agents will help process your bail bond quickly.
Los Angeles Main Jail & Court Information for Inglewood Bail Bonds
Inglewood Court
HOURS OF OPERATION - the courthouse is open from 8:00 am to 4:30 pm, Monday through Friday, excluding court holidays. 
Public parking lot is at the east parking garage for $6.00.
FOOD SERVICES AMERICANS WITH DISABILITIES ACT (ADA) ACCOMMODATIONS
Accessible parking spaces are available on the 1st and 2nd level of the public parking garage and the 2nd level of the employee / juror parking garage. Accessible ramps are available on the 2nd level of the public parking and the employee / juror parking garage.
Persons with disabilities who require accommodation to access court programs, services or activities may contact the courthouse ADA Coordinator.
View the Access Information For Persons With Disabilities section complete information about all ADA services including:
ADA Coordinator's phone and fax numbers Accommodations requests and forms
Assistive Listening System (ALS)
Telecommunications Device for the Deaf (TDD) numbers and fax information
FOOD SERVICES a snack bar is inside the courthouse. Food and drink may not be taken into any courtroom or office. 
Police Station Locations in Inglewood
1 W Manchester Blvd
Inglewood, CA 90301
(310) 412-5207

Inglewood Courthouse 
1 Regent Street
Inglewood, CA 90301
(310) 419-5516 
Inglewood Juvenile Courthouse
110 Regent Street
Inglewood, CA 90301
(310) 419-5267
Los Angeles County Municipal Court House:
1945 S. Hill St.
Los Angeles, CA
(213) 742-1884
City information
The Southern California city of Inglewood is located in Los Angeles County.
Inglewood is a city in Los Angeles County, California, southwest of downtown Los Angeles. It was incorporated on February 14, 1908.
Its population stood at 109,673 as of the 2010 U.S. Census. The city is in the South Bay region of the greater Los Angeles area.
North Inglewood is the area north of the Santa Fe railroad tracks. In 2009, it was reported to be the site of a "burgeoning arts scene" centered at East Hyde Park Boulevard and La Brea Avenue. Fairview Heights is a signed area north of Florence and east of La Brea.