Burbank Bail Bonds
Dealing with an arrest can be unnerving, especially if you have never dealt with this type of situation before. If you live in the Burbank area, or anywhere in the greater Los Angeles County area, your first step should be calling Steven Mehr Bail Bonds at 800-834-8522. Our office is open all hours of the day and night. We work 365 days a year, even nights, weekends and holidays. The police don't take days off so we don't either. When you are faced with an arrest, you want someone who is available when you need them, not when it's convenient. Our goal is to be able to work with you when you need us. That means continued availability. As soon as you get the phone call about the arrest, collect the necessary information and then make the call to our office. We will take it from there.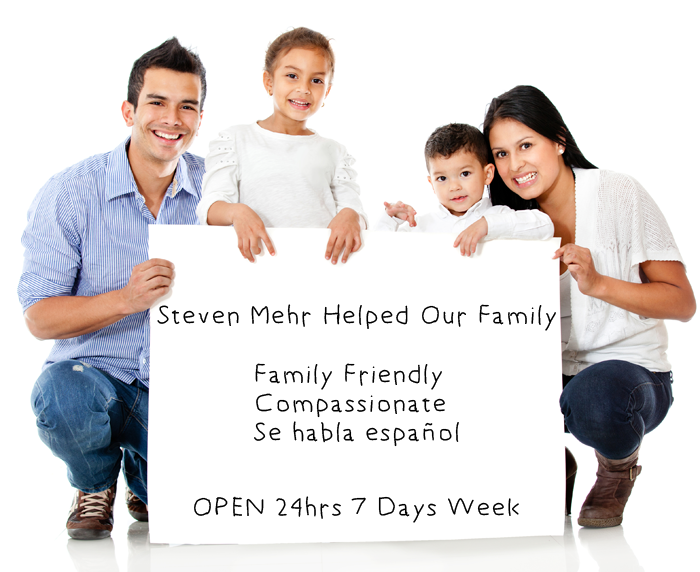 Once You've Been Arrested
Once you or a loved one has been arrested, you will need to find a way to post bond. The best way to accomplish that task is to call our office. We can complete the bail bond application over the phone, through emails or via fax. All we need from you is the defendant's information and a way to secure the bond and collect the state-mandated, non-refundable 10% premium. If you don't have the information we need, we can call local law enforcement and obtain it that way.
As far as securing the bond, you will have to prove you are eligible for the promissory note. You will need to provide us with proof of employment or other documentation that shows us that you are able to cover the bond if, for any reason, the defendant skips bail or the bond is forfeited. You can pay the 10% fee with cash, credit/debit card, money order, cashier's checks, or other property that hold substantial value. If you are using property as collateral, however, the application process will be slightly longer as we verify the eligibility and value of the property being used.
Local Law Enforcement and the Burbank Jail
After your arrest by the Burbank Police Department, you will be taken to the Burbank Jail located at the Police Station. The address is 200 North Third Street, Burbank, California. Once you've been booked and processed, you will be held at the Burbank Jail until you are bonded out or have appeared at your first court hearing. There are times, however, when you will be transferred to one of the larger jails, especially if the Burbank Jail becomes overcrowded. One of the largest jails in Los Angeles County is Men's Central Booking located at 441 Bauchet Street in downtown L.A.
Booking and Release
Once you have been read your rights and arrive at the Burbank Jail, the booking process will begin. The police will verify your identity, check for any outstanding warrants, take your fingerprints, photograph you and inventory your belongings. As soon as you have been formally charged, you will be assigned a specific bail amount. Bail is determined in two ways. If you have been charged with a serious crime, like murder, or have numerous charges, you may have to appear in front of the judge. At that time, the judge will evaluate your circumstances and assign you an appropriate bail. If the judge believes you are a flight risk or a danger to yourself and others, he may deny bail so that he is sure you will appear in court.
The other way bail is set involves the use of a pre-determined bail schedule. The bail schedule is a list of minor charges, such as simple assault, that carries a specific bond. The amounts of have been determined by local judges and are fair for the crime in question. Once you know what your bail amount is, you can contact your co-signer and have them get the bail bond process started.
As soon as the application is completed and the fees are secured, the bail bonds agent can come to the jail post your bond and obtain your release. The release process can take anywhere from 2 to 8 hours, depending on how busy the jail is. The process will go much quicker if you get bonded out of the Burbank Jail. If you wait until you get transferred to one of the larger downtown jails, the release process may take up to 12 hours or longer. Once you're out, the bail bonds agent will go over your rights and responsibilities with you and make sure you understand what is happening. He will also make sure you know your court date and how often he expects you to check in.
How Do I Post Bond?
If there is a cash bond in place that is relatively small, you can post it on your own. The full amount of the bond must be paid in full, in cash if you want the defendant released. To post a surety bond, you will need to hire a bail bond agent. In order to post the bond, you must fill out an application that proves you are eligible for the promissory note. Once you've been approved, the next step is to secure the bond and pay the 10% premium. Most applications can be completed over the phone. You can also come to our office or schedule a meeting in a place that is more convenient for you. We will even come to your home if that's what you need for us to do.
Once the formalities have been taken care, the bail bonds agent will go to the jail, post the bond, and retrieve the defendant. After the defendant has been released, the bail bond agent will set down with both of you to make sure everyone understands their rights and responsibilities. Being able to post bond is a right and a privilege and can be taken away at any time if the defendant doesn't follow through with their end of the agreement. If you have any questions about the bail bond process, make sure to ask them now so that you fully understand the scope of what you are doing.
Bonds can be either revoked or forfeited. Knowing the difference is extremely important. If a bond is revoked, it means the court has questions about the sincerity of the defendant or is afraid the defendant is going to leave the jurisdiction of the court. As a co-signer, you can also revoke the defendant's bond if you begin to feel as if you might be held responsible for the entire amount. A forfeiture occurs if the defendant flees the jurisdiction of the court and cannot be returned for his court dates. If that happens, the court will forfeit the bond making it due and owing at that time. As the co-signer, you will be ordered to pay the entire amount of the bond, in full, at that time.
What Happens After the Defendant's Release
The Constitution allows an arrested person the opportunity to post bond and obtain early release from jail. Once released, the defendant is allowed to return home and resume their normal activities. They are able to return to work, care for their families, and hire an attorney. It's important to use this time wisely. When you hire an attorney, take the time to help build your case and make sure all of your affairs are in order. While you are taking care of your obligations, it's important you remember to always remain in compliance with the court's guidelines. These include:
Attend any and all scheduled court hearings involving your case

Don't leave the jurisdiction of the court without permission

Keep all of your personal contact information up to date

Check in with your bail bond agent on a regular basis

Attend any classes the judge requests

Avoid other people who are involved in your case

Don't be charged with any other crimes while your bond is in effect
During the period that your loved one is out of jail, they have an opportunity to assist their attorney and help them build an appropriate defense. It's extremely important that this time is used wisely. If the defendant isn't sure if they are allowed to do something or participate in a particular activity, call our office. One of our agents will be able to answer their question and help them get the answers they need. Don't risk violating the bond agreement! Always discuss your questions fully with your bail bonds agent so that you don't have to worry about whether or not you are in compliance.
When the Case Is Over
Once the case is over, several things will happen. First and foremost, the defendant will be found either guilty or innocent. If they are found innocent, they are released and their bond will be released as well. This can take anywhere from 30 to 60 days, depending on what type of payment was used and how busy the courts are at the time. A bond secured by property may take slightly longer to release. If the defendant has been found guilty, they will be taken into custody until their sentencing date. Once they are returned to the custody of the court, they bond will be released. In either situation, you will be absolved of your responsibility of paying for the bond and the case will be closed.
If the defendant leaves the jurisdiction at any point up to their court date or if they skip bail at any point before the bond has been released, the court will immediately revoke their bond and issue a warrant for their arrest. In most cases, the judge will grant the bail bonds agency a specific period of time to find the defendant and return them to custody. It depends on the situation, but normally the amount of time is around 30 days. If the defendant isn't returned, the bond is said to be forfeited and the co-signer must pay the full amount immediately to the court or face collections.
At Steven Mehr Bail Bonds, we know that the majority of the people we work with don't have the financial means to come up with bail at a moment's notice. We make ourselves available around the clock because we understand how frustrating it is to have to worry about maintaining a budget, while at the same time gathering money for a bail bond. When you call our office at 800-834-8522, we will sit down with you and fill out a bail bond application. We will take a close look at what is going on with the case and do everything we can to help you get your loved one out jail. There may be times when posting a bail bond is not the best idea. If this is the case, we will offer you the best advice we have and help you work through this difficult time.
When bond is an option and it is in the best interest of both you and the defendant that they are released, we can help you reach your goal. We have resources at our disposal that allow us to work with our clients. In some cases, we may even be able to finance the amount of money you need to post bond. Call our office today and talk to any of our reputable agents. We can help!