Downtown Los Angeles Bail Bonds
Los Angeles, California is one of the biggest cities in the United States. It's easy to get lost in the hustle and bustle of the big city, especially if you're dealing with an arrest. You don't have to worry about the confusion. The staff of Steven Mehr Bail Bonds are close by and can help you get through any messy situation. If you have questions or concerns about posting a bond or where to go, dial 800-834-8522. We are always on call to answer the phone and make sure you have all of the information you need.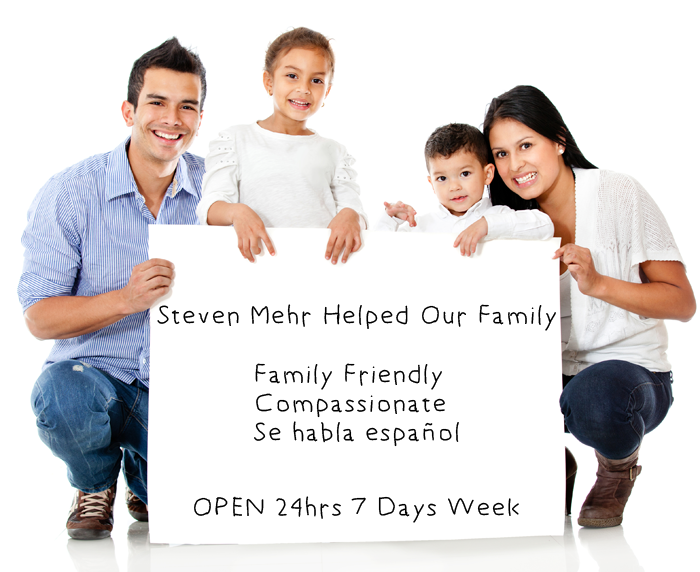 You've Been Arrested, Now What?
An arrest in downtown Los Angeles can be a frightening experience, especially if you've never been arrested or dealt with the police. If you're unfamiliar with the Los Angeles area, the first thing you should do is call a bail bonds agency who understands how the courts and law enforcement agencies work. Even if you are familiar with the area, the most important thing to do is have your co-signer get in touch with the agents of Steven Mehr Bail Bonds. The goal is to get you out of jail as soon as possible. If you are arrested in downtown Los Angeles, you will be taken to either the Metropolitan Detention Center or Men's Central Booking.
The booking and intake process can take anywhere from two to eight hours due to size and number of arrests that are recorded on a daily basis. During booking, your picture and fingerprints will be taken. Your identity will be verified and a background check will be performed to determine if you have any other outstanding warrants or pending charges. Your belongings will be inventoried and you will be placed in a holding cell. You will be formerly charged and your bail determined by either an arraignment hearing or with a previously approved bail schedule. When a bail schedule is used, a bail bonds agent can come to the jail and post your bond, allowing you to be released within a few hours of your arrest. If an arraignment hearing is set, you may be in jail for up to 72 hours until you can meet with the judge.
How Do You Post Bond?
Not many of us have the money at our immediate disposal to pay for bail outright. A cash bond is relatively small and must be paid in cash, in full, at the jail to obtain the defendant's early release. A surety bond allows you to only pay a portion of the total bond amount. In order to post a surety bond, you will need to hire the services of a bail bonds agent. When you call our office, we will explain the bail bonds process and what role you will play as a co-signer.
In order to be eligible to be approved for bond, you must have a valid address, stable employment and show financial means to cover the bond if, for any reason, it would be forfeited. It takes approximately 30 to 45 minutes to fill out the application, depending on what method will be used to secure the bond. We take several forms of payment, including various types of property. In order for property to be used to secure a bond, it must hold substantial value and be owned free and clear of all judgments and liens. If you use a vehicle or real estate, the title or deed will have to be turned over the bail bond agency as a form of collateral. Once the formalities have been taken care, the bail bonds agent will head to the jail to complete the process and bring your loved one home
LAPD and the Local Jails
The agents at Steven Mehr Bail Bonds have spent almost 90 years building a reputation with law enforcement officers throughout the state of California. This also includes the officers of the Los Angeles Police Department and the deputies of the Los Angeles County Sheriff's Department. When you come to us for a bail bond, the first thing we do is get in contact with the Los Angeles Police Department. We will find out the charges and where the defendant is being held and how long it will take for the release process.
In most cases, the defendant will be at either Men's Central Booking located at 441 Bauchet Street or Metropolitan Detention Center at 535 Alameda Street in downtown Los Angeles. Both jails can be extremely busy so if your loved one was taken to either facility, you may have to wait for several hours for them to be released. It's extremely important to get the bail bonds process underway as soon as you find out about the arrest. This will save time and will allow the defendant the opportunity to go straight from the booking process to the release process.
Know Your Rights
During any arrest situation, it's important that both you and the defendant know your rights. As a co-signer, you have the right to know what you're signing and make a conscious choice to post the defendant's bond. If at any time, you no longer feel comfortable bearing that responsibility, you can choose to have the bond revoked and the defendant returned to the custody of the jail. You don't have to have any other reason other than you no longer wish to be held accountable for the total cost of the bond. Most co-signers, however, usually note they have started to be concerned as to whether or not the defendant will comply with the court's demands and appear at their scheduled hearing.
If you've been arrested, you should also be aware of your rights. According to the 8th Amendment of the Constitution of the United States, you have the right to post a bond that is fair and just according to the seriousness of the crime you have been charged with. The 8th Amendment prevents you from being held for long periods of time without an opportunity to post a reasonable bond. There are times, however, when the judge can refuse to set bond. The situations that can prevent you from receiving bond include:
You are considered to be a flight risk

You have been charged with a heinous or extremely violent crime, such as 1st-degree murder or rape

You have been deemed to be a threat to yourself or others
When any of these three situations are at play, the judge must feel without any doubt, that releasing you could result in disastrous consequences. If you are allowed to post bond, you are being afforded both a right and a privilege. You can return to your family, resume your job, fulfill your financial obligations and hire an attorney.
Be Aware of Your Responsibilities
Along with your rights, you also have responsibilities. As a co-signer, your primary obligation is to ensure that the defendant remains in contact with the bail bond agent and the court at all times. You must also make sure they attend all of their scheduled hearings. If they don't and can't be found or returned to the jail, the court will forfeit their bond making you fully responsible for the total amount. If time has run out and the defendant has not been returned to custody, you must pay the full amount of the bond to the bail bonds agent upon request.
As a defendant, you have several responsibilities that must be taken seriously. These include:
Remain in regular contact with your bail bonds agent

Report any changes in employment, address or personal contact information

Do not leave the jurisdiction of the court without permission

Attend any and all scheduled court hearings

Not be charged with any other criminal acts while out on bond
You must also take care of your personal obligations and responsibilities as well. Your ability to maintain your quality of life while you are out on bail will show credibility as well as your intention to take responsibility for your actions. As a defendant, it's up to you to prove your innocence. Hiring and maintaining a positive relationship with an attorney will allow you an opportunity to build an effective case that can be used to prove your innocence.
Take Control of the Situation
Whenever an arrest occurs, it's imperative that you take control of the situation as soon as you can. Once your bond has been set, you will know the basics of the case and can begin to work on what needs to be done next. When you hire the agents of Steven Mehr Bail Bonds, we can make sure you don't miss any of the important steps on the way. We will work to protect your rights and make sure you have everything you need to move forward with your case. Our goal isn't just to get you out of jail. It's to help keep you of jail. We offer our services to both the defendant and the co-signer for the duration of the bond.
Once you or your loved one has been released, we will meet with both of you and go over what the court expects and what we expect. We will make sure that all of your questions are answered and your concerns are addressed. With that being said, we will work with you no matter what stage of the process you are involved in. Once the case has been closed and the remaining bond monies are returned, the case may be at an end, but our working relationship isn't. Our agents remain dedicated to their clients and we will always be ready to serve you whenever you need us.
Downtown Los Angeles can be a scary place during an arrest. The big city can seem very unforgiving. This is why, when you call us, our agents are always there. We work nights, weekends, holidays, any day that most people don't, we are always on call. As part of our dedication to our clients, we also guarantee complete confidentiality and ultimate professionalism. To start the bail bond process, all you have to do is dial 800-834-8522 and speak to one of our staff. Whether you are visiting Los Angeles or are a lifelong resident, and arrest that occurs downtown can be overwhelming. Let our agents help.
We have a reputation for being the best in our field. Our agency was established just short of 90 years ago in an attempt to provide the citizens of our area, the best possible bail bond service in the state. We feel that we have accomplished that goal and with that thought, we believe we have a reputation to uphold. When you need a bail bond agency that is well known and respected throughout the entire state, call our office. Steven Mehr Bail Bonds has a reputation that is above reproach. We are the professionals you've been looking for. Our number is 800-834-8522.