Seal Beach Bail Bonds
If your friend or family member has been arrested in Seal Beach, CA, we understand how stressful and confusing this situation can be. We can assure you, however, that the highly trained and experienced bail bonds agents of Steven Mehr Bail Bonds Service stand ready to assist you in the midst of this trying time. You can contact us toll-free at 800-834-8522 any hour of the day or night, 365 days a year.
Since 1927, our fully licensed, bonded, and insured agents have been serving Orange County and the southern California area. That is longer than any other company in the California bail bonds industry. In that time, we have acquired vast expertise, which allow us to process your bail bond and free your loved one from jail in the shortest time-period possible.

We can handle every variety of bail bond, ranging from misdemeanor all the way to felony charges. We can process bonds of every size, and we will render you the same fast and friendly customer service regardless of the bail amount and fee involved. Furthermore, we can give you a free consultation and answer all of your important questions.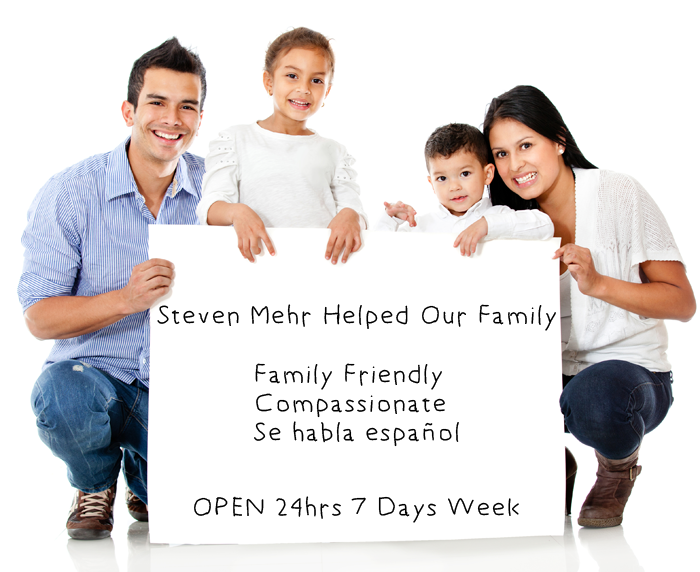 Besides the basic service of providing a bail bond to get your friend or relative bailed out of jail fast, we offer certain special services that not every bail bonds company is willing to provide. Among these special services are:
Payment plans with affordable installments. No-interest and zero-down arrangements are available to those whose credit rating qualifies them. In some cases, no collateral is required.

Bail by phone, fax machine, and email. In many cases, you do not even have to physically appear at our office or at the jail in order to bail your loved one out.

No-collateral bonds, under certain special circumstances.

Signature bonds.

Acceptance of multiple payment methods, including: cash, check, credit card, money order, wire transfer, etc.
Not only are we flexible in finding a way to accommodate your needs, but we also have an intimate knowledge of the Seal Beach and Orange County jail systems. We know the booking and release processes in intricate detail, and we can explain to you exactly how it works and thus help you avoid costly mistakes.
When a person is arrested in Seal Beach, regardless of the charge on which he/she was apprehended, he/she will be taken to a police station jail or a sheriff's station jail. Inmates are usually only held at these locations for a short period of time before they are transferred to the Orange County Main Jail in Santa Ana.
The booking and bailing-out processes at any of the police or sheriff station locations are relatively quick. At the overcrowded, maximum security facility in Santa Ana, however, it can take six to 12 hours to book an inmate and another six to 12 hours to get him/her released. For this reason, you do well to contact us as soon as you learn of your loved one's arrest.
You have a Constitutional right to post bail in most instances. If the alleged crime was a capital offense or if a bail hold exists on the individual, no bail can be posted. A bail hold is an order from law enforcement agencies, probation/parole officers, or a judge to deny bail until the accused makes his first court appearance. Other than these exceptions, you can post bail 24/7/365 to get your loved one freed.
If no bail is posted, the inmate will be kept incarcerated for 24 to 48 hours before going to court. This time frame is not inclusive of weekends or holidays. Without being bailed out, it will be difficult for the accused to hire a good lawyer and successfully defend himself in court. Furthermore, the court date may be set as far as a month from the arrest date if the defendant is bailed out.
The booking process involves using a live scan fingerprint machine to conduct a background check. This machine is linked to county, state, and national databases, which can determine if any outstanding warrants, bail holds, or aliases exist. If none are found, the suspect now has "cleared fingerprints" and is eligible for bail.
The bail amount is pre-established, based on the severity of the crime. Once the bail bond is received, the court date is set, and the prisoner is released. The time between finishing booking and being released on bail varies from about 30 minutes to three hours at Seal Beach police and sheriff's stations. It is, remember, six to 12 hours at Orange County Jail.
In a few cases, an inmate may be released one his own recognizance (O.R.) or someone may be able to post the full bail in cash, but a surety bond (bail bond) is usually the most practical solution. This bond will normally require some form of collateral, such as real estate, cars, cash, credit cards, jewelry, art work, bank accounts, etc. This collateral will be returned to its rightful owner after the case is finalized. The bail bondsman will charge a 10%, or in some cases an 8%, fee as mandated by state law.
The 10% bail bond fee is non-refundable and is how bail bonds agents make a living. If the defendant, after being bailed out on a bail bond, fails to appear in court, the bond co-signer is liable for the full bail. The judge will enter the defendant's name a national fugitive database (the NCIC) and inform the bail bond agency to arrest the defendant and bring him before the court. This is called a "bench warrant." The judge can re-instate the bond, at his/her own discretion, thus preventing the co-signer from losing the bail money.
Once the inmate has been released from custody, the bail bond fee is considered to be fully earned by the agent. The co-signer is no longer liable for the bail bond once the case is finalized, all scheduled court appearances have been taken care of, and any outstanding premium is fully paid back to the bonding company. At this point, the bond will be exonerated. It is best to call and inform us when the court notifies you of the bond's exoneration so we can facilitate the quick return to you of any outstanding collateral.
Should you call us to arrange for a bail bond, it is best to have the following information at hand to expedite the process:
The full legal name of the arrestee

His/her booking number, if already booked

The location where he/she is in custody

The bail amount, if already assigned
If necessary, we can collect some of this information ourselves or assist you in doing so. You can call us toll-free, 24/7/365 at 800-834-8522 or fill out an online bail bond form right here on our website. We at Steven Mehr Seal Beach Bail Bonds Service rank among the most trusted names in the business, and we look forward to serving you and helping you get your loved one out of jail quickly.