Mission Viejo Bail Bonds
If your family member or friend has been arrested in Mission Viejo and you wish to bail him/her out, it is imperative that you move quickly. Steven Mehr Bail Bonds Service stands ready to answer your toll-free call to 800-834-8522 and to assist you with all of your bail bond related needs.
The Situation in Mission Viejo
Mission Viejo, being an unincorporated area, is patrolled by the Orange County Sheriff's Department. No city police force or city jail exists in Mission Viejo. Because of this situation, those put under arrest in this town are held very briefly in a holding facility run by the Mission Viejo Sheriff's Department Division. Then, after anywhere from 10 minutes to several hours, they are transferred to the Central Jail Complex in Santa Ana.
The circumstances determining how long an person arrested in Mission Viejo will be held there before transfer include: the number of inmates awaiting transfer, the nature of the charges the arrestee is facing, and the transportation currently available. If your loved one is transferred to the maximum security facility in Santa Ana, the bail out process will grow longer and more complex.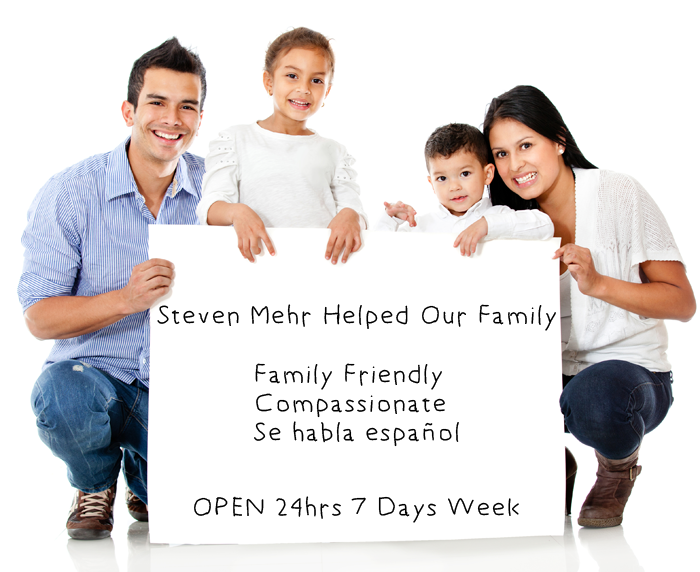 Two Scenarios To Consider
There are two likely scenarios that may take place when your friend or relative is placed under arrest in Mission Viejo. We will look at these two possibilities as "hypothetical narratives" in step-by-step fashion, but the reality would probably be very close to what is here presented.
Scenario One: Bail Is Posted in Mission Viejo
You contact us quickly, as soon as you learn of your loved one's arrest.

We call the Mission Viejo Sheriff's Station right away and ask the sheriff to hold your friend or relative there instead of transferring him to the Orange County Central Jail Complex.

The sheriff agrees since we assure him we are going to post bail at the station.

We quickly process the necessary paperwork and meet you at the sheriff's station.

The inmate is booked at the sheriff's station. Fingerprints are scanned and compared with the national DOJ database. No warrants, aliases, or bail holds are preventing bail. A bail hold prevents bail from being issued until the suspect makes his/her first court appearance (arraignment).

The inmate is classified according to which California law code he allegedly violated. For example, it may be the penal code, vehicle code, health and safety code, etc. The bail is then assessed based on the pre-set amount that applies to the alleged violation of that particular code.

After the booking procedures are finished, we post bail and secure the release of the arrestee in 15 to 30 minutes' time. The arraignment date is given, which will be within a month of the arrest date.
Scenario Two: Bail Is Posted in Santa Ana
You did not call as soon as you learned of the arrest or the transfer was made within a few short minutes of the arrest. Thus, your loved one is now at the overcrowded, maximum security facility in Santa Ana known as the Orange County Jail.

We call the Orange County Jail's Intake/Release Center (IRC) to learn of the present status of the inmate and to let them know we will be bailing him/her out. We gather all the necessary information and begin to process the paperwork.

At Santa Ana, the booking process takes six to 12 hours. Fingerprints were already scanned at the sheriff's station, but it must be done over again here. A medical exam, search, photographing, and Classification Detail interview move along slower than usual because of the great swell of inmates that just recently arrived, which has overwhelmed the available staff.

The inmate is housed in a cell appropriate to the charge leveled against him. If the charge had been different, he would have been transferred yet again- this time to either Theo Lacy or James A. Musick jail. If he had been arrested on an out of county warrant, he would have been shipped to the warrant-issuing county.

We arrive to begin the bail bond posting process, but at Orange County Jail, it takes six to 12 hours to complete it. We post bond at the Cashier's Office, and finally, after a long ordeal, your arrested loved one is released.
Bail Bond Basics
Whether bail must be posted at Santa Ana or can be posted in Mission Viejo, we know how to get the job done. You need to understand, however, what a bail bond is. A bail bond is a contractual agreement whereby a licensed bail bond agent guarantees the court that the defendant will appear for his scheduled court dates. The person posting the bond in the defendant's behalf guarantees the bail bonding company the full amount of the bail should the bail money be permanently lost to the court.
The failure of the accused to show up for a court date will result in a "bench warrant," which is meant to bring the defendant before the court. The bail bond will be forfeit at this point, but at the judge's discretion, the bond can be re-instated. Thus, a missed court date is always dangerous, but it is not always "fatal."
A Difficult Decision
We understand the difficulty in deciding on whether or not to bail out a friend or relative. You may not be sure immediately upon hearing of his/her arrest of exactly what you should do. You should still contact us right away, however, since we can then call the sheriff's station and at least keep your options open for a little bit longer.
Furthermore, we can give you a free consultation and valuable information. We can find out things like the charge, the arrest circumstances, the bail amount, and booking and warrant information. Some of this information is only available to licensed bail bonds agents. We can then call you back once we have gathered this data, at which time you can make your final decision. Of course, the "transfer clock" is ticking, but sometimes you can gain a little time to make a decision.
What If I Decline to Bail Out the Arrested Person?
In the event you do not bail the person out, he/she will remain in custody in Santa Ana for 24 to 48 hours. This period does not include weekends nor holidays. Then, the inmate will appear for the arraignment, probably at Harbor Justice Center in Newport Beach.
How Much Does a Bail Bond Cost?
The state of California has fixed the bail bond fee of all licensed bail bond agents operating in the state at 10% of the total bail amount. In exceptional circumstances, this can be reduced to 8%. Anything less than 8% is illegal and jeopardizes the validity of your bail bond.
What If I Don't Have the Money On Hand?
Since many people cannot come up with the full fee out of pocket, we provide financing. We can set up a payment plan with very affordable payments. If your credit rating is good, you may qualify for a zero-down and/or zero-interest payment option. In other cases, a half-down policy may be obtainable.
Collateral is often required, but sometimes a mere signature will be sufficient. When collateral is needed, such things as real estate, automobiles, jewelry, bank accounts, and credit cards are often acceptable.
Steven Mehr Can Make Bail Bonds as Fast and Easy as Possible
If you decide to bail your arrested loved one out of jail, we can put our expertise to work for you. We can move rapidly and obtain his/her freedom in the shortest possible time frame. You can meet in our clean and comfortable office to fill out necessary paperwork, or you can do everything "long distance" via phone, fax, email, and credit card. Our in-town agents can respond within minutes on a 24/7 basis to post the bail. We are available on holidays as well - in fact, on every day of the year. Call Steven Mehr Mission Viejo Bail Bonds Service toll-free at 800-834-8522 anytime for a free consultation. By being bailed out, your loved one will gain valuable time to prepare for the upcoming court case, which will then be as far as a month away.