Hollywood Bail Bonds
A run in with the law is the last thing anyone ever wants to deal with. Even though it can be a frustrating, and sometimes frightening, experience when you have the right people on your side you know you will be able to work your way through the situation. Steven Mehr Bail Bonds has been in business for almost 90 years. Each of their agents has the knowledge and expertise to handle your case professionally and expeditiously. It doesn't matter if you are in Hollywood, California or anywhere else in the state, you can call the office at 800-834-8522, anytime day or night. 24/7/365, nights, weekends, and holidays our agents are available to help. You can also visit our website at www.ssmehrbailbonds.com.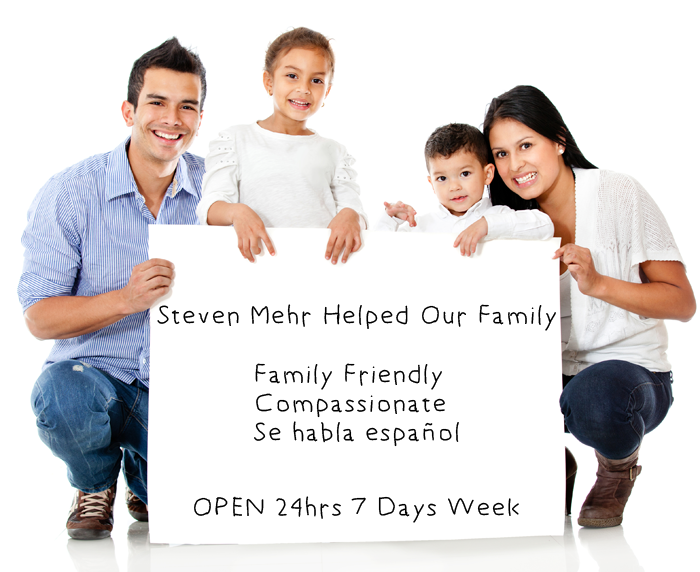 What To Do During And After An Arrest
If you or a loved one has been placed under arrest or you find out that a warrant has been issued, calling our office should be your first priority. The sooner you call us, the sooner we can get the process started. This is especially true if the warrant hasn't been served yet. If you know an arrest is imminent or it has already occurred, call our office and get the bail bond process underway immediately. Once the application has been approved and the payment for the fees secured, we will go to the jail with you when you turn yourself in. If you are already there, we can be at the jail with your bond money in hand before they finish the booking process.
Once they take you into custody, you will have to go through the booking process. You will be charged and assigned bail. The booking and intake process includes:
Having your picture taken

Fingerprinting

Verification of your identity

Interrogation

Search for other pending warrants
Once the intake is complete and your bail has been entered, our agent can post your bond and the release process will begin. The intake process normally takes between 2 to 4 hours, while the release process can take an additional 6 to 8 hours, depending on how busy the jail is at the time. After your release, your bail bond agent will let you know when your court date is and any other stipulations and requirements the court has put in place for you to obtain early release. After the formalities are over, you will be able to return home with your family.
Understanding the Bail Bonds Process
If you have never had to deal with an arrest, the bail bonds process may seem confusing. Although it seems overwhelming, when you have a trusted bail bonds agent on your side, the process isn't so frightening. As soon as you are arrested and charged, you will be assigned a bail amount. The bail is calculated according to a bail bond schedule that was determined by local judges in the area, assigning specific charges with an appropriate bail amount. If you have been charged with a severe crime or multiple crimes, you may need to appear before a judge at an arraignment hearing. During an arraignment hearing, the judge will evaluate several factors before determining bail. These factors include:
The severity of your charge or charges

Whether or not you are gainfully employed

If you are a flight risk

If you are a potential risk to yourself or others
If he determines that you are eligible for bail, he will set an amount that is appropriate for your particular case. If the judge determines that you are ineligible for bail, you will be held at the Los Angeles County Jail until your scheduled court hearing. Even though you are afforded the right to bail and early release by the 8th Amendment of the Constitution, there are certain circumstances that will allow the judge to deny your right to bail.
Once your bail has been determined, you can apply for a bail bond through Steven Mehr Bail Bonds. The application process can take anywhere from 15 minutes to an hour depending on how you plan on securing the bond. If you pay the state mandated, 10% premium with cash, a credit/debit card, money order, or cashier's check, the process will go extremely fast. In fact, it can even be completed over the phone, via fax or through an email. If you plan on using property, the application process will take slightly longer because the value of the property will have to be determined. Once the financials are squared away, however, the application will be complete and the agent will be on his or her way to the jail.
As soon as the paperwork is completed, the bail bonds agent will head to the jail and post the defendant's bond. This is when the release process begins. If the bail bonds agent arrives while the defendant is still being booked, they will go from the intake process to the release process. The amount of time it takes for the release process to be completed will be determined by how busy the jail is and how many staff members they have on hand.
Even though your loved one is out of jail, the bail bonds process isn't complete until the case is closed. As soon as the defendant's case is either closed or dismissed, the judge will release the bond and any money that is owing to the co-signer will be returned. This process can take from 30 to 60 days, with property bonds taking the longest time to clear.
LAPD and the Los Angeles County Sheriff's Department
No matter where you are in Hollywood or Los Angeles County, after an arrest you will be turned over to the Los Angeles County Sheriff's Department and taken to the Los Angeles County Jail. The Men's Central Jail is located at 441 Bauchet St. in Los Angeles. During the intake and booking process, you may be taken to the Hollywood Jail located at 1358 North Wilcox Avenue in Los Angeles.
There are holding areas and detention centers in many Los Angeles County neighborhoods, but Hollywood primarily uses the North Wilcox Avenue location for arrests that take place in that area. The Hollywood Jail holds approximately 100 inmates and is used for detainment only. If you have a loved one who has been arrested and is being detained at the facility, it's best to get their bond posted before they are transferred to the Los Angeles County Jail. It will take much less time to secure their release from the Hollywood location than if you waited until they were transferred.
Your Rights and Responsibilities
Both defendants and co-signers have rights and responsibilities once they agree to comply with the stipulations of the bail bonds agreement. As a co-signer, you have a right to revoke the bond at any time. By revoking the bond, you are claiming that you no longer want to be responsible for the full amount of the bond if the defendant would choose not to fulfill their obligations. Your main responsibility as a co-signer is to ensure that the defendant appears at all of their scheduled court hearings. If they do not appear or it is determined that they have skipped bail, you will be responsible for the entire amount of the bond if the defendant is not apprehended and taken into custody,
As a defendant, you have a right to obtain early release through the use of a bail bond. This allows you to return home and be able to return to work until your scheduled court date. This right is guaranteed by the 8th Amendment of the Constitution and can only be negated if the judge believes that you might be a flight risk or could possibly harm yourself or others. The seriousness of your crime may also be a consideration. Your main responsibilities including attending all scheduled court hearings and complying with the requirements of the court. In most cases, this means not being placed under arrest for additional crimes or leaving the jurisdiction of the court. If you do flee the area, the co-signer will become fully responsible for the total amount of your bond.
Can You Be a Co-Signer?
While your intentions are good, there are circumstances under which you may not be eligible to become a co-signer. The sole responsibility of a co-signer is an obligation to pay the full amount of the bond if the defendant does not fulfill their end of the contract. To be eligible to be a co-signer you must have a steady means of income or own enough property to cover the full value of the bond. You must also be able to make the decision on your own without any help from the defendant or other individuals who may have an interest in obtaining early release for the defendant. If you have any questions about whether or not you are eligible to be a co-signer, call the agents at Steven Mehr Bail Bonds. They will be able to answer your questions and guide you through the process so that you have a full understanding of what being a co-signer really means.
Knowing You Have the Right Bail Bonds Company
While an arrest can happen rather quickly, you don't want to be in a rush to find the right bail bond agency. You need to take a little time and consider what each company has to offer. Ask your family and friends to see who they recommend. Don't be swayed by bail bonds agencies that offer reduced rates or no fees. The 10% premium you are required to pay is mandated by the state. You can't negotiate it and it isn't refundable. Check to see if the agency belongs to any bail bonds associations or the Better Business Bureau. Look past the fancy website and learn as much as you can before you make your decision.
Steven Mehr Bail Bonds was established almost 90 years ago. It is family owned and operated and the agents are hand picked because of their dedication to professionalism and compassion. Our agents understand the need for 100% confidentiality and will settle for nothing less. They understand that convenience is the key in certain cases, especially if you have no way of getting to the office. Their bail by phone option and the ability to perform many transactions over the internet are just a few of the ways our agents go the extra mile.
Call Now for the Best Bail Bonds!
When you need fast, efficient bail bonds service, call the agents of Steve Mehr Bail Bonds today at 800-834-8522. We offer the fastest, friendliest service throughout Hollywood, California and all of Los Angeles County. Our agents are available 24 hours a day, 7 days a week and 365 days a year. Arrests aren't scheduled which means our agents will work around the clock traveling to all parts of the state to ensure that your loved one is able to return home as soon as possible. Call our office today for the most professional service in the entire state of California. We are here to make sure you don't spend any more time than absolutely necessary away from your family. We will do everything in our power to make sure you and your loved ones have the information you need when it comes to the bail bonds process and how it can benefit you.