Bail Bonds in La Crescenta
La Crescenta Bail Bond Advice
We believe that the most crucial thing that you can do when it comes to getting a bail bond is looking for a reputable and legitimate company. Knowledgeable and very friendly, our licensed agents are always at the ready to help and handle any and all bail requests received. We'll answer any questions you have with thorough clarity to ensure you get the right information and peace of mind that you deserve. We will process your request as quickly and efficiently as possible. Our agents are always concerned for your well being and we understand that the situation you are going through is difficult and the emotional turmoil it brings is far from easy. We will work diligently to help you get your loved ones out of jail with professional efficiency and discretion, as these are the main goals at Steven Mehr Bail Bonds. Please call us as soon as possible so we can get the bail bond process under way. Please have all information ready to start the approval process. No matter the time of day or season, we will be here with professional backing to help you through this uneasy time. We want you to be as comfortable as possible throughout this process, so we will be informing you of all the relevant information you need to make informed decisions. Give us a call toll-free at: 1-888-411- BAIL (888-441-2245), we'll be waiting!
What exactly is a Bail Bond in La Crescenta?
A bail bond is a written contract that states that the defendant will attend all of their court date(s) including sentencing in order to be released from jail. A bail bond can however be revoked due to high risk factors. If you have any questions about bond revocations, feel free to ask one of our agents!
How can I post a Bail Bond in La Crescenta?
Signature Only Request:
The defendant or the co-signer qualify financially for the amount in which the court calls for. This will require the defendant and the co-signer to sign a state-approved, written contract that states that the defendant will attend his/her future court date(s), as well as paying all of the state regulated fees.
Secured Only Request:
This request is for property or a title that will be deposited until the conclusion of the case. The property has to be worth the same amount or more than the bail amount (car, house, etc.), along with the state regulated fee.
What happens after I sign a Bail Bond request in La Crescenta?
Once the written contract is gone over and signed, you are making a promise that the defendant will appear in court on their assigned date(s). If the defendant does not make an appearance in court, the bail may be forfeited and the defendant could be apprehended and will be incarcerated until their trial date.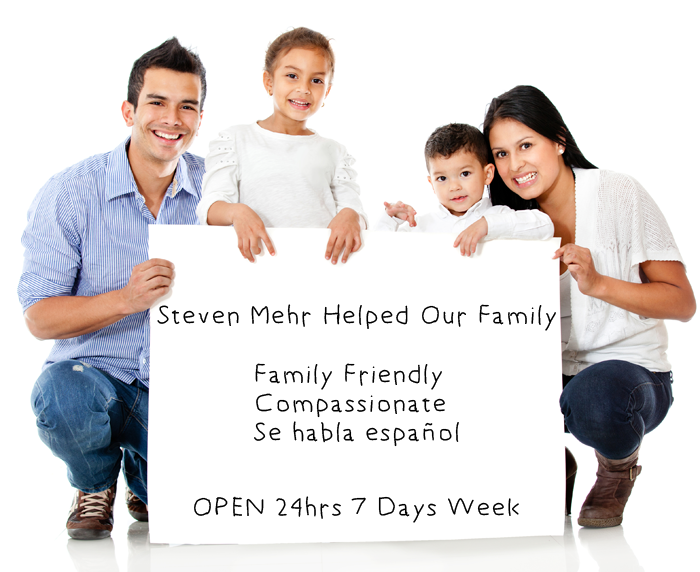 How a La Crescenta Bail Bond Works:
Bail Bonds in La Crescenta use a state regulated agreement with the surety company and the local court officials. Once the payment of the bail has been met, the defendant will be released from jail until their next court date. Our agents will give the paperwork to the jail officials as to get you or your loved ones out of jail quick! Until the case has come to a conclusion, the court will be holding on to the bond. In California, there is a fee charged that is 10% of the total bond amount. For example, to post bail for the defendant: if the bail amount that's required is $10,000 then you need to pay $1000. This fee is non-refundable and can be as low as 8% in some circumstances. If you qualify for a lower rate, please make sure to tell the agent or have the agent look into this for you when you call! Once the defendant is released from jail, our Bail Bond Agent will explain and walk you through the steps regarding the remaining bail bond procedure. We do, however ask you to understand that if the defendant violates the bail bond conditions; it can result in another arrest and/or full payment of the total bond amount.
La Crescenta Bail Bonds & Inmate Information:
Here at Steven Mehr Bail Bonds, we can be at any jail location in approximately 20 minutes to get going with a bail bond process. The bail bond process takes roughly 15 minutes or more; it can also be done through over the phone, email, fax or electronic signature.
La Crescenta Bail Bonds booking & Release Process:
A person taken into custody by the La Crescenta Police Department will be escorted to the La Crescenta Police Station Jail or will be transferred over to the Los Angeles County Central Jail. They will be held until their court date - also known as an "Arraignment". La Crescenta Bail Bonds can literally be posted at absolutely any time, any day during the year including weekends and holidays. The defendant will receive a background check through a "Live Scan" before the bond can be processed (Live Scan is a system that is linked to a national database). This database will check with authorities to make sure there are no holds, warrants, or anything else that will impede the bail bond process. Once started, the bail bond process will usually take anywhere from an hour to upwards of 8 hours for a full release. A release will depend upon the time in which the jailer can process a defendant.
"What If I am an Out-of-Towner arrested in La Crescenta?"
Even if you don't reside in La Crescenta or you live outside of California and you need a bail bond, the process is not difficult to obtain using a Bail Bonds company such as ourselves! In order for a bond to be processed, you will need to work with a licensed bail bond agency that will put in the diligent work/paperwork needed to process the bail bond. Often times, our clients will be out on vacation or business trips and run into legal situations where they're at, that in turn need to call us for a bail bond. Our team of professional and experienced bail agents will help process your bail bond as quickly and thorough as possible!
Jail & Court Information for La Crescenta Bail Bonds
Men's Central Jail
441 Bauchet St Los Angeles, CA 90012
(213)-974-4916 
La Crescenta Jail
4554 N. Briggs Ave., La Crescenta, CA 91214
(818)-248-3464 
LASD Crescenta Valley Station
4554 Briggs Ave. La Crescenta, CA 91214
(818)-248-3464
Police Station Locations in/near La Crescenta
LA Crescenta Valley Station
4554 Briggs Ave. La Crescenta, CA 9214
(818)-248-3464
Glendale PD
131 N Isabel St, Glendale, CA 91206\
(818) 248-3464 
City of Burbank PD
200 N 3rd St, Burbank, CA 91502
(818)-238-3000
Definitions of cases:
Criminal:
A criminal case begins when the government files a case in court to punish someone (the defendant) for committing a crime. If the defendant is found guilty of a crime, they may face incarceration (jail or prison). There are three types of criminal cases:
Infractions:
An infraction is a minor violation. Many traffic violations are infractions. The punishment for infractions are usually a fine, and if the defendant pays the fine, there is no jail time. Infractions are processed by the Traffic Division.
Misdemeanors:
A misdemeanor is a crime with a maximum punishment of either 6 months or 1 year in a county jail, and/or a $1,000 fine.
Felonies:
A felony is the most serious kind of crime. If found guilty, the defendant can be sent to jail or state prison for a year or more, they can even receive the death penalty for very serious crimes.
Frequently Asked Bail Bond Questions: FAQ'S
These are some of the most frequently asked questions (FAQs) about the bail bond process. Our licensed bail agents can provide you with all of the information specific to your precise situation.
For answers to your Bail Bond questions, please call us toll-free at: 1-888-411- BAIL (888-441-2245).
Q: What is the cost of a Bail Bond?
A: In most states, including California, the cost of bail is 10% of the bond. Please note that each state sets its own rates. The rates are non-negotiable and non-refundable. There are no hidden fees and no taxes for a bail bond. For example, if the bail were set at $15,000, then the fee charged would be $1500. The cost of a bail bond in California is set with the Department of Insurance at 10% of the total bail amount. There are rare times that 8% is a legal rate. Any agent offering bail at anything less than 8% is simply acting illegally or is being deceptive. We will work with you to find the best way to obtain bail in a legal manner.
Q: How is the Bail Bond amount set?
A: When setting the bail amounts, the publics' safety is always considered first and foremost. The more severity of the crime, the higher bail amount will be. County bail schedules will generally include bail amounts for crimes and also crimes with extenuating circumstances. For example, bail schedules will indicate a bail amount for Driving Under the Influence of alcohol or drugs (a DUI), in some states considered Driving While Intoxicated (DWI), but will also include a higher bail amount for a DUI with an accident or a DUI with injury. It's even higher for a DUI where there is a death involved.
Q: Do you offer a rate lower than 8% of the Bail Bond or will you negotiate the premium?
A: We cannot negotiate a bail premium. We will not allow ourselves or our clients to break the state laws of the Department of Insurance. Not only will it cost us our license, consider carefully the position in which unlawful bail puts you. If a bail agent is breaking the law by illegally cutting the price of the bail, do you think that this same agent can be trusted to return anything you put up as collateral or handle your paperwork legitimately? This agent could surrender the defendant back to the court without cause. A lower percentage rate may sound great, but what will it really cost you in the long run? Please be careful. Look at all your options before you accept an illegal bail bond offer.
Q: How do I pay for the Bail Bond?
A: When arranging for bail, most companies generally need payment in advance of "posting" a bond. We accept checks, Visa, MasterCard, American Express and Discover. Most of our clients pay by using a credit card(s). We do also offer financing at 0% down and 0% interest for up to a full 12 months. Please ask us how/if you qualify. At Steven Mehr Bail Bonds, we know the cost of the bail bond in most cases is more than many people have on hand. In many cases, we can offer no collateral bail bonds.
*We do not usually charge a financing fee.
*We will work out payments that you can afford.
*We offer no collateral Bail Bonds to applicants who qualify.
*We accept cosigners (make sure you understand your bail bond responsibilities before you sign).
Q: Can I just pay the jail for the full amount of the Bail Bond?
A: Yes, of course. To be released on a cash bail, an individual must post the FULL amount of the bail with the court in the form of cash or cashiers' check. In order to post cash bail, the individual should check with the bail clerk to verify the forms of payment accepted in that jurisdiction. Different courts may have other options and/or restrictions. The source of funds for a large bail must be verified ensuring they are legal sources.
Q: What happens when a person is arrested?
A: When someone is arrested, generally they are taken to the local police station for processing and booking. The processing and booking procedure includes fingerprinting, photos, and nation-wide computer database searches. It can take several hours depending on the size of the enforcement facility. In smaller facilities, the process generally happens more quickly. Bail cannot be arranged until the arrest process is complete.
Q: What is the procedure for bailing somebody out of jail?
A: As soon as the 'booking' process has been completed a Bail Bond Company is contacted by phone/fax/email or text by the defendant or person that is signing the bond. The licensed bail bond agent will ask some questions pertaining to the arrest and they will begin the approval process. After the approval has been completed and all paperwork is completed the agent will 'post' bond and you will be on your way to the comforts of your home.
Q: What is an 'O.R.'?
A: The person that has been arrested (defendant) can be released on their Own Recognizance, also typically known as 'OR'. This is usually reserved for a lesser crime. Only a judge can decide to release a defendant on OR. In such cases, the defendant is released with a written promise to appear in court and no bail is required.
Q: What is a 'Cite Out' or 'Cite & Release'?
A: A Citation Release involves the issuance of a citation (ticket) to the person being arrested, informing the arrestee that they must appear for an appointed court date. This is usual procedure for a more minor infraction such as a traffic violation. No bail bond would be required.
Q: Can your company handle Bail Bonds for any jail in California, quickly and discretely?
A: Steven Mehr Bail Bonds can handle your bail bond quickly. We are a national company, which covers all states that allow for a bail bond, not just California. From start to finish, most bail bonds are completed in 2-8 hours. We are also able to handle bail bond documentation by e-mail or fax in a matter of minutes. In addition, we also have a network of licensed agents throughout California who will "post" a bail bond at the appropriate jail. Once the bail bond is approved, the customer will need to sign the basic bail bond documents, including an application, indemnity agreement, and receipt. After the paperwork is finalized and payment has been made, a licensed bondsman will "post" the bail bond at the jail.
Q: What happens if the defendant is not bailed out?
A: If the defendant does not get bailed out of jail, they will generally remain in custody until the courts have resolved the matter.
Q: What other information and legal resources are available does Steven Mehr Bail Bonds offer?
A: Steven Mehr Bail Bonds has an expansive collection of bail bond resources for your convenience. You can always find what you are looking for when it comes to information on bail bonds.
Bail Bond Collateral
Q: What is collateral?
A: Collateral is something of value that is used to secure a debt or ensure payment. Sometimes a bail bond company will receive collateral to ensure that the defendant appears in court. Most bail bond collateral is in the form of real estate, cash or items that are worth more than the full bond amount. The bail bond company must return all of your collateral when the case has come to an end.
Q: Do you always need to have collateral for a bail bond?
A: Not with Steven Mehr Bail Bonds. We can often negotiate a no collateral bail bond (a signature bond). We do indeed find that most of our customers are eligible for a signature bond.
Q: If I use collateral for a Bail Bond, when do I get it back?
A: When the defendant's case has come to fruition and all financial obligations are satisfied, collateral will be returned to the individual who pledged it.
Q: Will the court take my property as bail collateral?
A: Yes, the court will take your property as bail collateral. The process usually takes several weeks. Equity in the property must be equal to 150% of the total bond amount. You can find out information you need to put your fears to rest by verifying our bail bond license status.
Contact the California Department of Insurance at:
1-800-927-Help (4357).
Bail Bond Penal Code Definitions
Penal Code section 1269c:
Prevailing legislation places the burden on law enforcement agencies to notify the magistrate if the scheduled bail is not adequate for the crime. Orders setting bail in excess of or less than, scheduled amount:
If a defendant is arrested without a warrant on a felony offense for which they can 'post' bail, or a misdemeanor offense for violating a domestic violence restraining order, and a peace officer has reasonable cause to believe that the bail amount set forth in the schedule is not great enough to assure the defendant's appearance or to assure the protection of a victim, or family member of a victim of domestic violence, the peace officer will prepare a declaration under penalty of perjury explain the facts and circumstances in support of a higher bail amount.
Persons not entitled to be released on bail are those charged with:
Penal Code section 1270.5 & California Constitution, Article 1, Section 12(a);
Capital crimes (i.e. murder with special circumstance), when the facts are evident or the presumption of their guilt is great.

Felony offenses involving an act of violence on another person, when the facts are evident or the presumption is great and the court finds (based upon clear and convincing evidence) that there is a serious likelihood that the persons' release would result in great bodily harm to others or to themselves.

Felony offenses, when the facts are evident or the presumption of guilt is great. If the court finds (based upon clear and convincing evidence) that the person has threatened another with bodily harm or if there is substantial likelihood that the person would carry out the threat if released from custody. California Constitution, Article 1, Section 12(c).
Bail or offenses that involve larceny under the Penal Code, as listed in this schedule (e.g. P.C. 487, 496, 504, etc.) is the scheduled amount or the amount of loss, whichever is greater. This policy is also applied to fraud type offenses of other codes such as Insurance Code, Revenue and Taxation Code for which no presumptive bail is specified in the schedule, at the presumptive bail for top term potential, below or the amount of loss, whichever is higher.
Penal Code section 1270.1 prohibits the release of a defendant on bail in any amount, other than that what is set forth on the bail schedule prior to a hearing in open court for:
Violent felonies as described in Penal Code section 667.5(c), but not 460(a);

Serious felonies as described in Penal Code section 1192.7(c) (including those listed in Penal Code section 1192.8);

Violations of Penal Code sections 136.1(c), 243(e)(1), 262, 273.5, 273.6, 422 (as a felony, and 646.9)
Bail Limit for Multiple Offenses
A bail limit for a case with multiple charges will be established as follows:
Felony only. The highest bail amount for any one felony offense, plus enhancement, will apply.

Felony charges with misdemeanor or infraction violations. The highest bail amount for any one felony offense, plus enhancement, will apply. Misdemeanor and infraction bails will not be considered.
Holds for Out-of-County Charges
The Felony Bail Schedule will apply to holds placed for out-of-county charges when no amount shown on a warrant or has been previously established.
Violation of Probation
Arrest without a warrant shall have NO BAIL if offense is for violating the terms of felony probation.

Bail will be set at $15,000.00 if the offense is for violating the misdemeanor probation terms.
All references to a code section shall include all subsections unless a bail is specially set forth for a particular subsection.
Revisions/Additions to the Felony Bail Schedule
The following procedure is established to make interim changes to the bail schedule without a formal meeting of the bail committee.
The staff will present all proposed interim changes and the approved bail schedule to the chairperson of the Uniform Bail Procedures Committee.

When the changes have been approved, a revised page for the bail schedule will be distributed to all agencies holding authorized copies.
Criminal Courthouse Locations and Hours
Criminal Division Hours
Monday thru Friday:
8:00am - 4:00pm
Drop Box Information
Drop boxes or door slots are located at each of the courthouses below, with 24/7 access. Payments and properly completed documents placed in drop boxes before 5:00pm on an open court day is considered received on the same date.
Central Justice Center
700 Civic Center Drive West Santa Ana, CA 92701
Criminal Division - 1st Floor
Self-Help Center - Main Lobby 
Harbor Justice Center - Newport Beach Facility
4601 Jamboree Rd. Newport Beach, CA 92660-2595
Criminal Division - 1st Floor
Collections Office - 1st Floor 
Making Payments or Corresponding by Mail
Superior Court
P.O Box 6040 Newport Beach, CA 92658-6040
North Justice Center
1275 N. Berkeley Ave. Fullerton, CA 92832-1258
Criminal Division - Main Entrance of Upper Level
Collections Office - Lower Level (Inside Traffic Division Lobby, Windows 7-10
Self-Help Center - Upper Level Entrance, Room 360 
West Justice Center
8141 13th St. Westminster, CA 92683-4593
Criminal Division - Outside Windows
Collections Office - 1st Floor
Self-Help Center - Next to the main lobby
Personal Endorsements
"I had absolutely no idea what to do when I was arrested! I was referred. They filled me in on the agent that was on his way to the jail and made me feel comfortable with knowing who I was going to be dealing with prior to their arrival! The bail bond agent was at the jail in less than a half-hour and thoroughly explained the process to me. This situation has been made so much easier thanks to Steven Mehr Bail Bonds! Thank you guys!" Rachel Durham
"Quick and efficient service! I was treated with warmth and care as though I had known them for years! Confidentiality was a huge priority and the overall results were nothing but satisfying."
Sincerely, Michael Jezowski
City information: La Crescenta is a city of Los Angeles County just south of the Angeles National Forest and north of Glendale. According to the 2010 census, the population was at 19,653. It is a smaller city, measuring out to 3.4 square miles. The area contains 7 elementary schools, 1 middle school, 2 high schools and 7 private schools (as well as two independent study locations). Certain parts of Glendale 
and La Cañada Flintridge coincide in La Crescenta and are considered a collective of it. La Crescenta is a beautiful city with many offerings to please everyone.