San Diego Bail Bonds
Steven Mehr Bail Bonds
1010 State Street
San Diego, CA 92101
619-232-2001
800-834-8522


Being arrested can pose an entirely new set of problems that many people are unprepared to face. Most people are financially unprepared to pay for a bail bond out of pocket. When you find yourself in an unfamiliar situation and don't have the financial means or the knowledge of how to find an effective solution, you need a reputable bail bonds agency to help guide you through the process. Call Steven Mehr Bail Bonds today at 619-232-2001. Our agents are licensed, bonded and insured and capable of helping you to protect your rights as well as those of your defendants.
We Are #1 in Bail Bonds Company in San Diego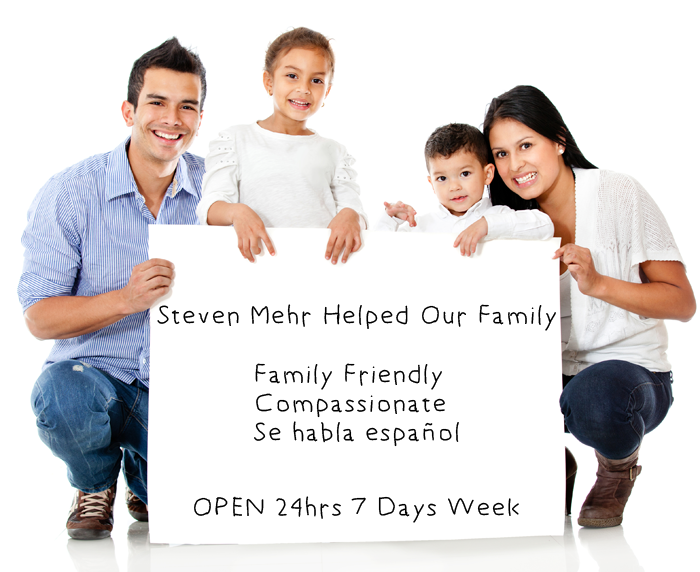 Steven Mehr Bail Bonds is second to none in the San Diego area when it comes to offering the best bail bonds options available. Our agents know and understand every aspect of the bail bonds process and have established working relationships with both the courts and law enforcement agencies throughout the state of California. The agents who work in our offices are available 24 hours a day, 7 days a week. We work weekends, holidays, and through the night because we know that an arrest normally does not occur during normal business hours.
Who We Serve
We offer many different types of bail bonds. Certain charges require specific types of bail bonds, such as domestic violence, guns/weapons, and immigration bail bonds. We understand the nuances of each type of bail bond and are capable of writing any type of bond our client requires. Our goal is to provide the best bail bonds service available to each of our clients. The ability to post bail is a constitutional right per the 8th Amendment of the United States Constitution. This amendment was included in to prevent people from remaining in jail for extended periods of time. By posting bail, they can return home to resume their responsibilities and to help their attorney build an appropriate defense.
The San Diego Bail Bond Process
The bail bonds process is rather simple once you understand the basics. When a person has been arrested, they are either arraigned through a court appearance or their bail is set according to a pre-determined bail bonds schedule. For common offenses, the bail schedule has a list of bail amounts that are to be used for specific criminal offenses. After an arrest, the defendant begins the intake process which consists of verification of identification, fingerprinting, photographed, and charged. Once the charges are in place, our bail bonds agent can bail them out.
When you contact our office, you will have to provide us with the information we need to fill out the application. This normally includes the defendant's name, date of birth, address, criminal history, the possible charges and the location where they are being detained. When we finish the application, you will need to pay the premium for the bail bond which is a state mandated 10% of the total bond amount. This figure cannot be negotiated and will not be returned once the defendant's case is closed. We accept cash, credit cards, money orders and various types of property that can be used as collateral to secure the bond. We may even be able to work out a finance agreement. The agent will head to the jail to post the defendant's bond and obtain their release. The bail bonds agent will go over the defendant's rights and responsibilities with him or her and allowed to return home.
The defendant must agree to all of the court's stipulations and comply with each before they will be allowed to post bail. Court requirements include attending all scheduled court appearances, complying with any protective orders that may be in place and attending classes that the court may deem necessary as part of your case. If the defendant fails to meet these requirements or does not appear in court, their bond may be forfeited or revoked. If this occurs, the co-signer will be responsible for the entire amount of the bail bond, over and above the 10% premium that was already paid.
If the defendant skips bail and attempts to avoid going back to jail, the bail bonds agency will do whatever it takes to regain custody of them. Once they apprehend the defendant, they will take the necessary steps to return them to jail. In most cases, the judge will give the bail bonds agency a few days time to apprehend the defendant and return them to court. When they are returned, the judge will release the bail bond obligations and the defendant will remain in jail until their scheduled court date. If a defendant has a history of not appearing in court or attempting to void prosecution, they may be denied bail due to being a high flight risk.
The co-signer also has rights when it comes to the bail bonds process. If, at any time, the co-signer begins to believe that the defendant is going to avoid trial or will not live up to their end of the agreement, they have the right to revoke their support and ask for the defendant's arrest. This will eliminate their responsibility for the bond and the defendant will return to jail until their court date. Any money or property over and above the cost of the premium and court ordered fees, will be returned to them at that time.
When a defendant realizes they have a warrant out for their arrest, we can make it so the defendant doesn't spend any time in jail until their court date. We will go to the jail with the defendant and while they are being worked through the intake process, our agent will be posting the bail and beginning the process of their release. There is no jail time and the bail is posted as the person goes through intake and release. There is no wait time and the bail acts just like any other type of bail bond.
The Types of Bail Bond in San Diego
Different cases require different types of bail bonds. A domestic violence bond may require that a protective issue be filed against the defendant. If this occurs, the defendant must agree to comply with both the court's requirements as well as those of the protective order. Violating either one will result in the defendant forfeiting their bail and being returned to jail.
A guns or weapons bail bond may require that the defendant surrender their weapons in order to obtain their bond. The weapons will be returned after the case has been completed as long as the person is not a convicted felon. If the person is charged with a violent crime against a specific person, a protective order may also be included in the agreement.
Immigration bonds are needed for individuals who do not have legal status in the United States. Because of the risk of flight, a judge will normally only accept a bail bond agreement if it meets specific criteria. Immigration bonds are often higher than other types of bonds and are secured with property instead of cash. A property bond must be secured with real estate or other types of property that is worth and at least one and a half times the total value of the bond.
We Can Help You Make It Through
At Steven Mehr Bail Bonds, we are here for our clients from the beginning of their case to the very end. We will even go to court with you if that is what you want. Our agents know the constitution and they understand your rights. They will be able to help you maneuver through the system and gain a working knowledge of the process as you go. If you miss court by accident, we can help you get the situation corrected without you ever having to return to the jail. Our agents have your best interest at heart. When you or your co-signer have questions, we will do our best to provide the answers you need. Our agents have been trained to work in almost any type of situation. They are extremely knowledgeable and capable of handling even the most challenging cases.
In San Diego and other California communities, the agents at Steven Mehr Bail Bonds offer personalized, one on one service to each of our clients. Our doors are open 24 hours a day, 7 days a week. Every day of the year, we make our agents available and continually provide them with the resources they need to have all of the answers you could ever think to ask. No matter what type of bail bond you or your loved one needs, we can accommodate your request. Call our office today at 619-232-2001, our offices are open 24 hours a day and someone is available to answer the phones at all times. When you are faced with a difficult situation and don't have the financial means to take care of the situation, we are here to help. At Steven Mehr Bail Bonds, we have the solutions for your individual needs.
San Diego Bail Bond Resources