North Hollywood Bail Bonds
Stress and anxiety are two things most people try and avoid. If you get the phone call that a loved one has been arrested or there has been a warrant issued for you, stress and anxiety come rushing in, destroying your peace of mind and upsetting your plans. The arrest is bad enough, but when it comes to bail, most of us have to face the fact that we don't have that kind of cash just laying around. That's when you need to look for the one resource that can help you work through your dilemma. The agents at Steven Mehr Bail Bonds are available 24 hours a day, 365 days a year. If you live in or near the North Hollywood area, all you have to do is call our office at 800-834-8522 and speak with one of our licensed bail bonds agents. We can answer your questions and get the ball rolling so you don't have to worry.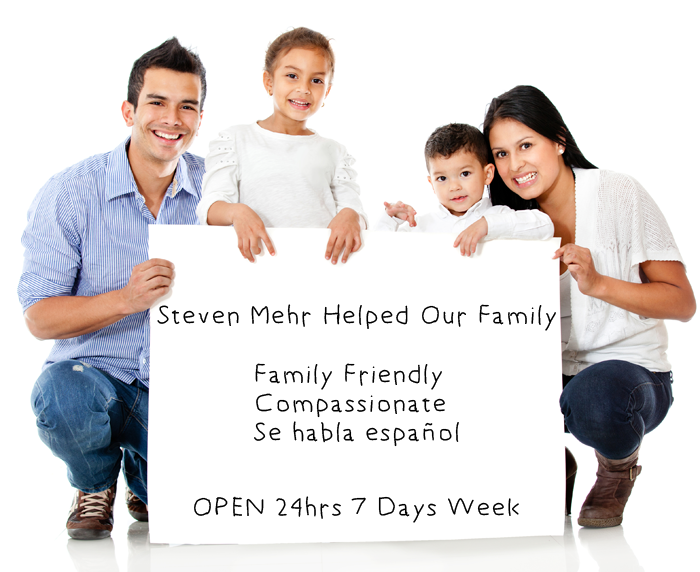 Who Do You Want In Your Corner?
Steven Mehr Bail Bonds has been in business for almost 90 years. Our agents have many years of experience and the reputation that was built by our founders is still intact today. When you call our office, you not only get a bail bonds agent, you also get an entire team of agents you can count on to help you get through an extremely difficult period. Our office is open all of the time. The police don't take days off and neither do we. Our ultimate goal is to make sure that you are able to get your loved one home where they belong without a lengthy wait. We have state of the art equipment that allows us to complete the bail bond application electronically. This expedites the process and your approval is almost immediate. Once you have paid the 10% state-mandated premium, our agent will be on his way to the jail to post bond and get your loved one of jail.
What Happens When An Arrest Takes Place?
After a person has been arrested, they are read their rights and taken into custody. This means they will be transported to the nearest jail. If an arrest occurs in North Hollywood, Studio City, Toluca Lake, Universal City, Cahuenga Pass, Sun Valley, or any of the other nearby communities, the police will take them to the nearest jail located at 11640 Burbank Boulevard in North Hollywood. Once at the jail, the defendant will be processed and booked. Their picture and fingerprints will be taken and their belongings inventoried. The arresting officer will run a background check to determine if they have any outstanding or pending warrants. Our agents have solid working relationships with both the North Hollywood Police Department as well as the Los Angeles County Sheriff's Department. We have spent years working with both law enforcement agencies and the court systems throughout the state of California. We have earned the respect of every person we have worked with over our many decades in the business.
Do I Really Need A Bail Bonds Agent?
If you have been placed under arrest and have had bail set that qualifies for a surety bond, you will need to hire a bail bond agent in order to get out of jail. If a cash bond is in place, you will need to pay the full amount of the bond in cash at the court house. For most cases, however, a surety or property bond is required. When you need a bail bond agent, don't spend time looking at companies who have only been in the business a short period of time. You need a bail bonds agent that has the knowledge and experience to handle any type of case that's put in front of them. At Steven Mehr Bail Bonds, we've seen it all. With over nine decades in the business, there isn't much we haven't seen. Our agents are familiar with the law and will guide you through the entire bail bonds process from start to finish.
How Does A Bond Work?
Bail bonds a constitutional right afforded to every person who has been arrested in the United States, including visitors from foreign countries. If you have been arrested, one of the first things that will happen is that you will be formally charged and a bail amount will be set according to a pre-determined bail bond schedule. If you have multiple charges or the there is a possibility that you may be a flight risk, you may have to appear in front of the judge at an arraignment hearing. He will determine what amount your bail should be. If you are charged with a violent crime, he may withhold bail and remand you to jail until your initial hearing.
Once your bail has been set, you will have to hire a bail bonds agent, fill out an application and pay the 10% premiums. Premiums are non-refundable and non-negotiable. I can be paid in many different ways, including:
Debit/credit cards

Cash

Money orders

CDs

Tangible property that is owned free and clear with no liens or judgments against it
Property can also be used, but it will take longer to complete the application process. Boats, vehicles, real estate, and jewelry are all viable options as long as their true value can be established.
When the fee for the bond is paid, the bail bonds agent will go to the jail and post the defendant's bond. It will remain in place until the case is completed and the defendant has either been sentenced or the case dismissed. Your bail bonds agent will be with you every step of the way, making sure all of your questions are answered and that you have everything you need prior to appearing in court. They will even go to court with you if that is what makes you comfortable. Working your way through the bail bonds process isn't easy. That's why we will always be there to answer your questions and let you know you aren't alone.
Knowing Your Rights and Responsibilities
When it comes to bail bonds, both the defendant and the co-signer have rights and responsibilities they must be fully aware of. If you choose to be a co-signer, the first, and most important, thing you must know is that you are responsible for the entire bond amount if something happens that the defendant skips bail and leaves the jurisdiction of the court. If they are not returned in a specific amount of time, normally 30 days, the court will forfeit the defendant's bond making it full and owing immediately upon request. It will be fully on you to pay back the total amount of the bond upon request. If for any reason, you decide you don't want to be responsible for the defendant, you can choose to revoke their bond. If this occurs, the defendant will be returned to the custody of the jail and you will be released from your obligation as it pertains to the bail bond.
If the defendant chooses to bond out of jail, their responsibilities include appearing at all of their court appointed hearings and not being charged with any further crimes. They will be required to remain within the jurisdiction of the court unless they have written permission and check in with their bail bond agents on a daily basis. Being able to post bond and obtain early release is a constitutional right, but it is also a privilege. Abusing that privilege and skipping out on your bond can lead to more charges and the inability to post bond in the future. It also destroys your credibility when you do appear in court. Being allowed to post bond affords you the right to spend time with your family and fulfill your obligations to your employer. You also have the opportunity to hire an attorney and begin to work on your case. It's important to carefully weigh your options. Your rights and obligations will follow you. Honoring them will make your case go much smoother and will actually work in your favor if you ever have another case.
Mistakes can be made and if the defendant can prove that missing court was an accident or unavoidable due to unexpected circumstances, they will take the information into consideration. In most cases, they will reinstate the defendant's bond and give them another opportunity to live up to their obligations. If this occurs, remaining in close contact with your bail bonds agent will help get the issue resolved in a timely fashion and will do wonders at re-establishing your credibility. Your bail bond agent will work with you if you have difficulties finding a way to court or if you have an emergency. Staying in contact with them shows the courts that you are serious about honoring your obligations and make them more willing to help you if something goes wrong.
What Happens After The Case is Closed?
The defendant's bond will remain in place throughout the duration of their trial to ensure that they continue to appear in court. Once the case has been closed, either through a dismissal or a sentencing, the court will eventually release the bond and any money that is left after court costs, fees, and restitution to the victims will be returned to the co-signer. If a cash or other "liquid" asset is used, the funds may be returned in as little as 30 days. If the item is tangible property, it can take anywhere from 30 to 60 days for it to be released. The court will notify the bail bonds agency when the bond has been released and the agent will notify the co-signer. Once the case ends, our relationship with our client keeps going. We always make ourselves available for the people who have used us in the past.
If you live in the North Hollywood area and need a bail bonds agent, Steven Mehr Bail Bonds is one of the most respected agencies in the entire state. Our agents can post bond anywhere in California. We have a reputation that precedes us everywhere we go. Don't let stress and frustration take over after an arrest. Pick up the phone and call our office at 800-834-8522. Our agents are always on call and ready to help you in any way they can. Established almost 90 years ago, Steven Mehr Bail Bonds will always go the extra mile for every client we have. When it comes to bail bonds, we can get the job done, whether it be traveling across the state to retrieve a defendant or helping an eligible co-signer finance their payment. Unlike some other agencies, our doors are always open. When you call our phone number you will speak to a live agent every time. Don't rely on just any bail bonds agency. Call Steven Mehr Bail Bonds today and let us help you figure things out.