Bail Bonds
Since 1927, our agency has been providing bail bonds throughout Orange County and all of California. We are a family owned and operated business, with four generations having served our community. Bail bonds are our business and we do the very best job possible for every client. We have an extensive network of agents that are well educated when it comes to the newest technological advances. We are capable of working with every jail in the state and understand how the system works. As members of the Better Business Bureau, our agents are the ultimate professionals. We work with attorneys, court officials and law enforcement officers so we can help you get through an already difficult time. Call us today at 1-800-834-8522. Our professional agents are ready to provide free consultations and reputable service whenever you need us: 24/7/365.
Our staff understands that your time is important. We serve our clients quickly and efficiently so you can return to your normal routine as soon as possible. We do everything within our power to make sure each of our bail bond clients are satisfied with our performance. Call our office today at 800-834-8522 for the fastest service possible.
Call Us Now at 800-834-8522 for Immediate Bail Bonds Service
Each of our bail bonds agents are qualified and highly trained to help you with all of your bail bonds needs, no matter where you are in the state of California. We are proud to say that much of our business comes from referrals, either through attorneys or their clients who have had to use our services in the past.
Throughout the state of California, we work with a large number of criminal defense attorneys. They count on us to provide the best possible bail bonds service to their clients. It doesn't matter what type of bail bond you need, we can help.
For over 88 years, the staff of Steven Mehr Bail Bonds has been able to help their clients work their way through the court system. We know how the system works and what is expected of each party. We go to great lengths to make sure everything is handled correctly and that everyone gets exactly what they need to complete the process.
Most Customers Have Never Needed the Services of a Bail Bonds Agency
Many of the people who contact our office have never had to deal with a bail bonds agency before. The entire process can be frightening and more than a little frustrating. We are here to take the guesswork out of the situation. We will answer your questions and make sure you have a thorough understanding of everything that is going to be happening. We appreciate your business and are willing to bend over backwards to build a relationship built on trust and respect. If you need us, we will always be there whether it is to answer your questions or secure a bond for your loved one's release from jail.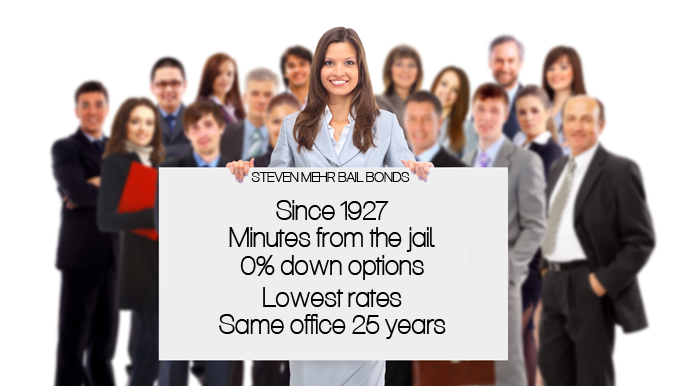 Why Steven Mehr Bail Bonds? 
Experience
No two arrests are the same. Each one has a unique set of circumstances behind it. If you live in California, you want a bail bond agent who knows and understands California law. If they don't, mistakes could be made that can end up being quite costly. With each county having its own way of doing things, a bail bond agent who is unfamiliar with the way things work can lead to misinformation and misunderstandings. Steven Mehr Bail Bonds has been working in the bail bonds industry for 88 years. We have a level of expertise that is unmatched in our area. 
Qualitative Service
We provide top quality service. We are available whenever you need us, including weekends and holidays. When you call our office, you will speak to a live agent. We do not use answering machines or recorded messages. We work with some of the best criminal defense lawyers in the state. We appreciate our clients and want to make sure hey have every advantage.
Affordability
Arrests usually occur at the most inopportune times, especially when it comes to finances. We know it can be difficult to come up with bail money and it doesn't help matters that a defendant must remain off of work until bail is arranged. It's for these reasons that we provide convenient, interest free payment plans that are designed to fit almost any budget. We offer flexible payments and will work with to set up a payment schedule that you can handle. If you qualify for one of our payment plans, we can have it set up and in place in a matter of minutes.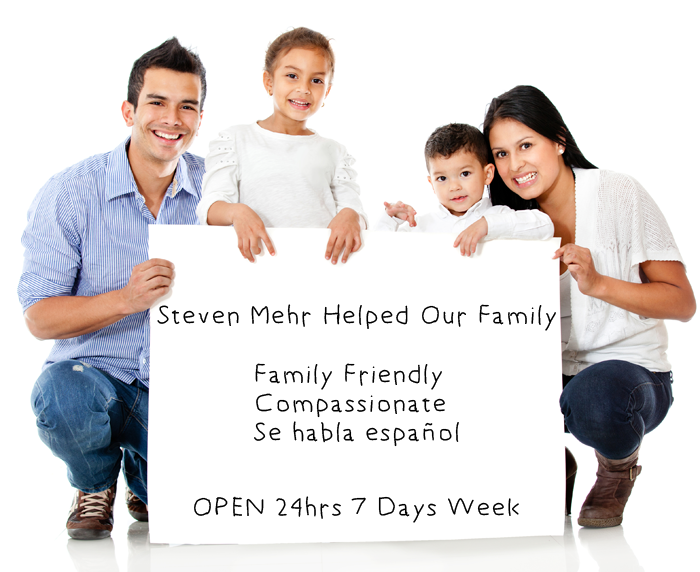 Ethics
We try to do what is best for all involved. In some cases, bail is just not a wise choice. In others, keeping the defendant in jail overnight may result in dramatically reduced bail amount. We look at the entire situation and try to determine the best way of handling the situation. We have been in the business long enough to know what is important. We are here to make sure our clients get the best deal possible out of a bad situation. We take pride in running an ethical and upstanding business. You expect the truth and we are here to give it to you.
We offer a variety of ways to secure bail bonds that make it fast and efficient
We know it can be difficult to get to us, so we make it easy on you. Our agents are located all over California and can come to you whenever you need us. 24 hours a day, 7 days a week, 365 days out of the year, no matter where you are. We can be there. If you prefer, we can even arrange bail over the phone, through an email or even using a fax. You are always welcome in our offices as well.
Service Throughout the State of California - Los Angeles, Orange County, San Diego, San Jose, San Francisco, Sacramento
It is our goal to provide the fastest, most efficient bail bonds service anywhere in the state of California. If you need us, we will be there.
We have a large network of agents strategically placed throughout the state of California. We can have an agent ready to serve in a very short amount of time. We understand this is a difficult time and we are here to give you peace of mind.
No matter where you are in California, from Los Angeles to Orange County, we will be there. We have agents who are experts at what they do. They are proficient in every detail and make sure your loved one is treated fairly and their rights are protected. We have been in business for over eight decades. We know how bail bonds work. When you need to get a loved one out of jail and you want the job done right, your first call should be to our office.
We have creative and flexible ways to help you get the bond you need
When you need help with a bail bond call our office immediately at 1-800-834-8522. Our agents are on call 24 hours a day, including weekends and holidays. A licensed bail bond agent will answer the call and help you understand what is happening. We are here to answer your questions and make sure you have all of the information you need to make an informed decision.
Testimonials
I recommend Steven Mehr Bail Bonds to anyone who needs a reliable and trust worth bail bond company. Before you call anyone I recommend you call this company - Negin Yamini (Los Angeles Criminal Attorney)
My experience with Steven Mehr Bail Bonds has always been professional and courteous. The people who work at Steven Mehr truly care about every client they help. - Vincent Ross (Orange County Criminal Attorney & San Diego Criminal Attorney)
Whenever someone needs bail I always recommend this bail bond company in Los Angeles. I have dealt with many bail bond companies I can tell you this one by far is the most professional. - (Los Angeles DUI Attorney)
Bail Bond Resources for California

CA Codes (pen:1268-1276.5)
Penal codes related to bail bonds in California.

Before you hire a bail bond agency make sure to see if they have a valid license. Bail Bond License Status
Bail Bond License Status #1492977
Our Service Locations: Aliso Viejo Bail Bonds, Anaheim Bail Bonds, Brea Bail Bonds, Buena Park Bail Bonds, Costa Mesa Bail Bonds, Coto de Caza Bail Bonds, Cypress Bail Bonds, Dana Point Bail Bonds, Fountain Valley Bail Bonds, Fullerton Bail Bonds, Garden Grove Bail Bonds, Glendora Bail Bonds, Granada Hills Bail Bonds, Hawthorne Bail Bonds, Hollywood Bail Bonds, Huntington Beach Bail Bonds, Inglewood Bail Bonds, Irvine Bail Bonds, La Crescenta Bail Bonds, La Habra Bail Bonds, Laguna Beach Bail Bonds, Laguna Hills Bail Bonds, Laguna Niguel Bail Bonds, Laguna Woods Bail Bonds, Lake Forest Bail Bonds, Las Flores Bail Bonds, Long Beach Bail Bonds, Los Alamitos Bail Bonds, Los Angeles Bail Bonds, Mission Viejo Bail Bonds, Newport Beach Bail Bonds, North Hollywood Bail Bonds, Orange County Bail Bonds, Placentia Bail Bonds, Rancho Cucamonga, Rancho Santa Margarita Bail Bonds, Riverside Bail Bonds, San Clemente Bail Bonds, San Juan Capistrano Bail Bonds, San Diego Bail Bonds, Santa Ana Bail Bonds, Stanton Bail Bonds, Seal Beach Bail Bonds, Tustin Bail Bonds, Villa Park Bail Bonds, Westminster Bail Bonds, Yorba Linda Bail Bonds