Laguna Niguel Bail Bonds
If your friend or family member has been arrested in Laguna Niguel, Steven Mehr Bail Bond Service stands ready to come to your aid with 88 years of experience at helping people just like you. Over the years, we have earned a reputation as one of the most trusted names in the industry, and we can assure you that our bail bond agents know the ins and outs of the bail out process in intricate detail. Call us today toll-free at 800-834-8522, and a licensed, bonded, and insured agent will be able to answer your questions and address your needs.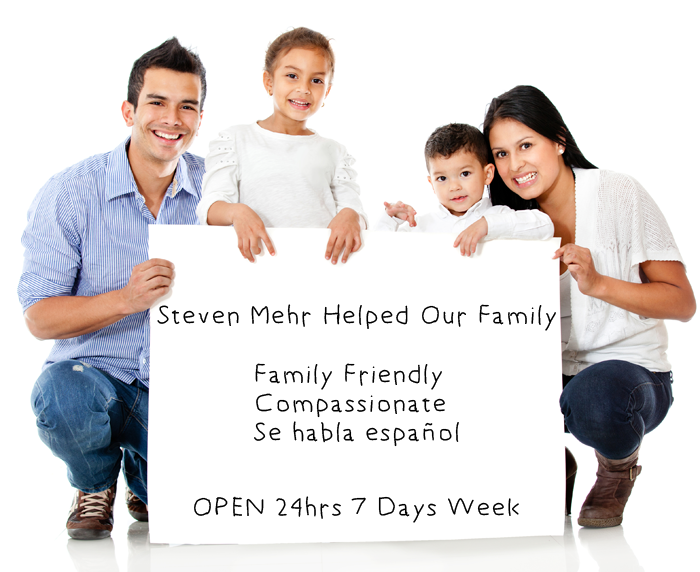 The Situation in Laguna Niguel
As Laguna Niguel is an unincorporated area and has no police department or city jail of its own, it is patrolled by the Orange County Sheriff's Department. Because there is no holding facility in Laguna Niguel, those arrested in town are quickly transferred to the Orange County Main Jail in Santa Ana. This transfer can take place within 10 minutes of the arrest or several hours later, depending on circumstances such as: the number of people waiting to be transferred at the time, the specific charges brought against the arrested person, and the transportation immediately available. If we are contacted soon enough, we may be able to bail out your loved one at the Laguna Niguel sheriff's station. Otherwise, bail will have to be posted in Santa Ana.
Two Probable Scenarios
We shall give two likely scenarios to illustrate how Steven Mehr Bail Bonds Service can help you and the value of contacting us quickly. Each will be outlined in step-by-step fashion, the first illustrating a bail bond posted in Laguna Niguel and the second a bail bond posted in Santa Ana.
Scenario One: Bail Is Posted in Laguna Niguel
As soon as you found out that your friend or family member was arrested in Laguna Niguel, you called Steven Mehr Bail Bonds Service.

We immediately began the process of bailing out your loved one. We called the sheriff's station and asked them to hold him/her there since we were going to post bail. The sheriff agreed to hold him instead of shipping him to Orange County Main Jail.

We arrange the bail bond, process the paperwork, and meet you at the sheriff's station within minutes.

The detainee is booked at the station. His fingerprints are checked against the U.S. DOJ national database via a live scan machine. There are no warrants, aliases, or bail holds discovered, so the fingerprints are now "cleared." If a law enforcement agency, parole/probation officer, or judge had issued a hold, then no bail could be paid until the defendant's first court appearance.

The sheriff assigns the bail amount based on the pre-determined bail schedule of Orange County. The amount will vary based on which law code was allegedly violated: penal code, vehicle code, health and safety code, business and professions code, etc.

A court date is assigned, normally within one month of the arrest date.

We post the bail, and your loved one is free within 15 to 30 minutes. He/she is now in a better position to hire a lawyer and prepare to face the charges that will be brought against him in court.
Scenario Two: Bail Is Posted in Santa Ana
You hesitate to call us upon learning your loved one has been arrested. By the time you do call, he has already been transferred to the Santa Ana facility.

We immediately get to work gathering all necessary information and preparing the bail bond. We contact the Intake/Release Center of the Orange County Main Jail as soon as possible to prevent the inmate from being shipped to Theo Lacy or James A. Musick jails, which could occur if Orange County is overcrowded or depending on the crime allegedly committed. If one was arrested on an out-of-county warrant, he/she could also end up transferred to the warrant-issuing county before very long.

Since Orange County Main Jail has nearly 6,000 inmates and is a maximum security facility, the booking process takes six to 12 hours. The exact duration depends on the number of inmates being booked and on the number of staff members available to process them.

Even though a fingerprint scan was done at the sheriff's station, it must be done again here. The inmate must then be searched, photographed, medically examined, classified according to alleged crime, and housed at the appropriate location.

We arrive to post the bail, but it will take another six to 12 hours before the inmate can be released.
Making a Tough Decision
It is not always easy to decide if you will bail out a friend or relative, but by calling us quickly, you at least gain a little extra time to make the final decision. We can help you through the entire bail out process regardless of whether it takes place in Laguna Niguel or in Santa Ana, but making the transaction in Laguna Niguel prevents the process from becoming longer, more complicated, and more frustrating.
What If You Decide Not to Bail Out the Arrestee?
If no one pays the bail, the arrested person will have to wait in jail until his/her first court appearance (arraignment). This will be within 48 hours of the arrest, but this time frame does not include weekends or holidays. The arraignment will likely be at the Harbor Justice Center in Newport Beach. If there is a bail hold or if a capital charge has been leveled, then no bail will be permissible.
We Make Bail Bonds as Fast and Painless as Possible
Our local bail bond agents can meet with you with only minutes' notice to fill out the necessary paperwork and explain to you and your loved one how the whole bail bond process works. We also can usually arrange bail via phone, fax, email, and credit card so that you will not have to physically leave your present location. In most cases, we can post a bond at the Laguna Niguel Sheriff's Station in around only 30 minutes. The station allows bail posts 24/7 and on any day of the year.

If you are low on funds for the bail bond premium, which is set by law at 10% of the total bail amount, we can likely accommodate you with a payment plan. Many times, we can accept credit cards and can even give you no-interest financing if you have a good credit rating.
Finally, we can give you free bail bond related information in regard to booking, case types, warrants, court appearance locations, court dates, bail amounts, and more. We can answer all of your questions and serve you in a courteous, professional manner. Call Steven Mehr Laguna Niguel Bail Bonds Service toll-free today at 800-834-8522, and we be happy to assist you.